The green building industry is one of the fastest growing segments of the construction industry, and demand for environmentally conscious buildings is only expected to grow. The US Green Building Council (USGBC) estimates that LEED building construction projects will provide 386,000 jobs and contribute $26.2 billion in wages by 2018. Yet surprisingly, only a small portion of new buildings constructed can be considered sustainable.
Buildings form an important component of our life – we live in them, work in them, rest and sleep in them. However, excessive amounts of energy and other natural resources are consumed during the construction phase; during their lifetime for maintenance, repairs and refurbishment; and finally when they are demolished and the waste disposed of, which is simply not sustainable.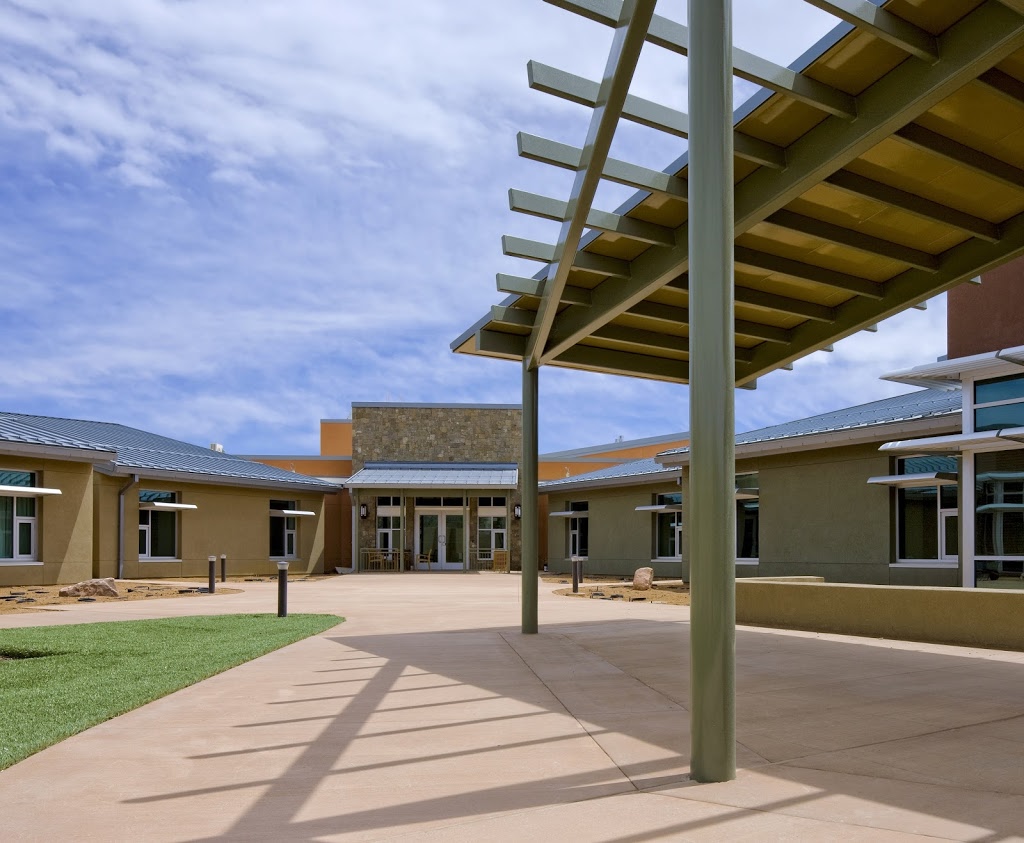 It is estimated that buildings contribute nearly 40% of all CO2 emissions released into the atmosphere in the United States. But according to the USGBC, LEED buildings are not only 25% more energy efficient, they product 34% less CO2 emissions, and divert more than 80 million tons of waste from landfills compared to standard construction methods.
Sustainable buildings are designed in such a way that they optimize environmental and economic performance while providing a safe, healthy and productive space for the building's occupants. Special consideration during the planning, design and construction stages results in lower energy consumption, reduced greenhouse gas emissions, and improved environmental stewardship.
At the same time, a green building also adds value to the occupants of the building, to the surrounding community, as well as to the owners of the building – a sustainable building offers benefits to people, improves profit margins, and considers the environment, in accordance with the principles of corporate sustainability as defined in the triple bottom line concept: people, profit, planet.
According to a report titled "The Business Case for Building Green", released by the World Green Building Council (WorldGBC), sustainable buildings offer many benefits – including financial value – to multiple stakeholders throughout the building's lifecycle. These benefits include:
-reduced operational costs as a result of energy and water savings,
-reduction in the amount of waste generated, and
-enhanced quality of the indoor environment
This in turn improves the comfort of the buildings occupants, which leads to even more benefits, including increased productivity.
Reduced Building Costs = Bigger Profits
As green building becomes more common practice, there is a trend towards lower construction costs associated with building sustainably, due to improved technologies and more readily available environmentally friendly building materials.
It is now possible to construct sustainable buildings for the same cost as their non-sustainable counterparts, and to even save costs in some instances. Some examples of inexpensive alternatives that offer savings in terms of building costs and/or energy costs include:
-Careful selection of labor-efficient and/or energy-efficient building materials can cut down labor costs during construction, as well as energy costs associated with running the building
-Attention to placement and orientation of windows, apertures and open spaces to facilitate daylighting. This can alleviate the need for artificial sources of light, offering substantial energy savings
-Strategic placement of windows and air-vents allows cool air to circulate and warm air to be expelled from the building, alleviating the need for energy-hungry cooling systems
An additional return on investment? The savings that are recouped from reduced operational costs, combined with higher productivity, as a result of a more pleasant working environment.
Enhanced Value of Property Assets
Green buildings are designed in such a way that they improve indoor comfort for the building's occupants. This not only provides a healthier indoor environment, improving the health and well-being of the occupants, but also improves overall productivity levels of employees, which ultimately has a positive impact on business profitability, too.
People are generally more environmentally and socially aware, especially with regard to the impact of their daily activities and the environmental footprint of the buildings in which they live, work and play.
Businesses and corporations are required to submit annual corporate sustainability reports detailing both the social and environmental impacts of their operations. Building sustainably is attractive to investors, building owners and tenants, as it not only improves sustainability credentials, but also improves their corporate image by showing them to be an environmentally and socially responsible organization.
It has been proven that green buildings are not only easier to sell or let, but due to the high demand for these types of structures, higher sales prices and rentals are attained for sustainable buildings, too.
Mitigating Sustainability Risk
As countries around the world scramble to reduce their greenhouse gas emissions, sustainability regulations are rapidly changing and becoming much stricter.
New regulations are being implemented globally that require property developers and building owners to disclose information pertaining to the energy-efficiency of their buildings, including the energy-efficiency of building materials used for construction, as well as that of the HVAC systems, appliances, lighting, and energy management systems installed within. Sustainable buildings greatly reduce the risk of buildings being penalized for being inefficient, and property assets being devalued due to non-compliance.
Furthermore, as tenants becoming increasingly more aware of the benefits of green buildings they may favor sustainable structures over non-sustainable ones. This changing trend could severely impact the demand for non-sustainable buildings, which would need to undergo expensive retrofitting or risk standing vacant and, in effect, becoming obsolete.
Better for Business All Around
Green buildings offer multiple benefits to property investors, property developers, building owners and building occupants (Table 1). Business savvy property investors, developers and owners are beginning to realize the long-term financial rewards, like increased initial appraisals and sustained value over time, that green building projects offer. These financial incentives and increasing interest in sustainability is likely to drive an upswing in the trend towards even more sustainable development in the future.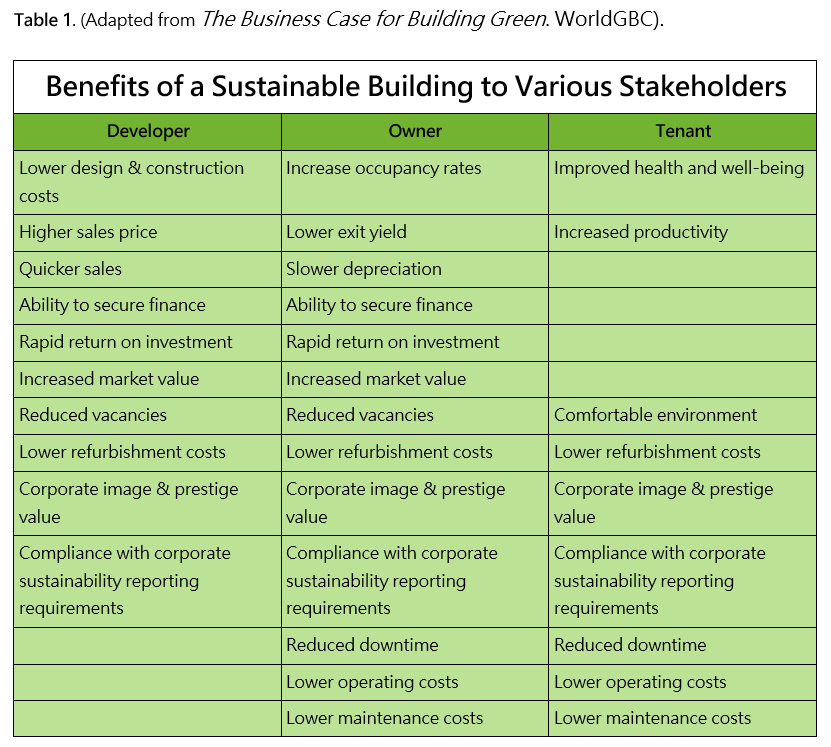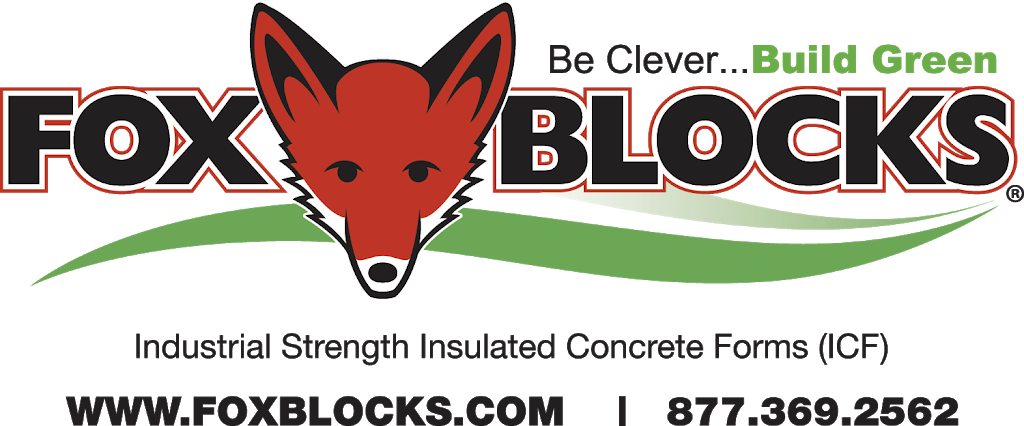 Building a home that stands up to severe weather and flooding is one thing. Designing a net zero energy custom home that your clients will love is another.
The owners of this Delaware home needed a structure that could provide protection from the storms and flooding that frequently plague the Chesapeake Bay area. They also wanted a design to suit their taste and lifestyle.
Samson Design worked with the homeowners to come up with a plan for a storm-resilient home that could save them money on monthly energy costs for the life cycle of the home. By specifying ICF walls for the construction, along with solar panels and a heat pump, architects planned energy-efficiency into every aspect of this home's design.
The homeowners also wanted a home with serious curb appeal, and Samson Design made sure to elevate the home's look with attractive detail.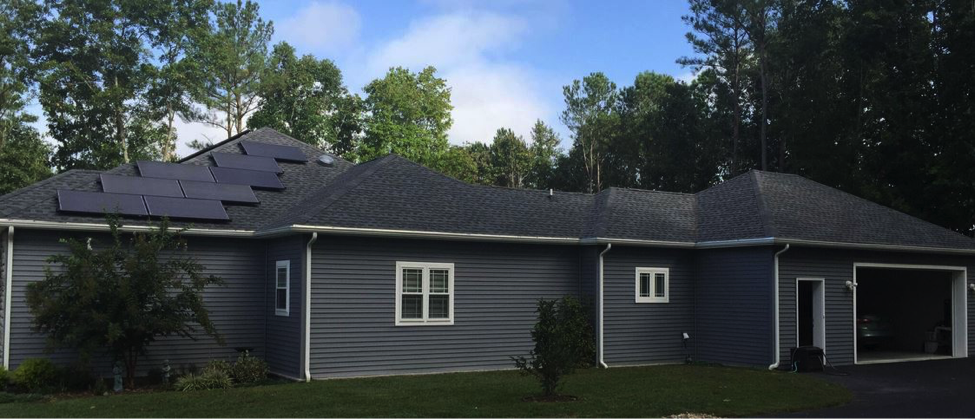 Curb Appeal and Flood Protection in One Design
Samson Design specified Fox Blocks ICF for the walls, floor system and garage. An ICF flooring system can be a challenge to work with; contractors with Excel Builders overlaid the floor plans and mechanicals ahead of time to ensure any through penetrations were handled properly.
By working with contractors and builders familiar with the benefits that ICF construction offers, this Delaware family wound up with an energy-efficient home able to withstand the flood- and storm-ridden climate of the Chesapeake Bay area. ICF structures can take on winds up to 250 mph and offer additional protection from flying debris and flooding.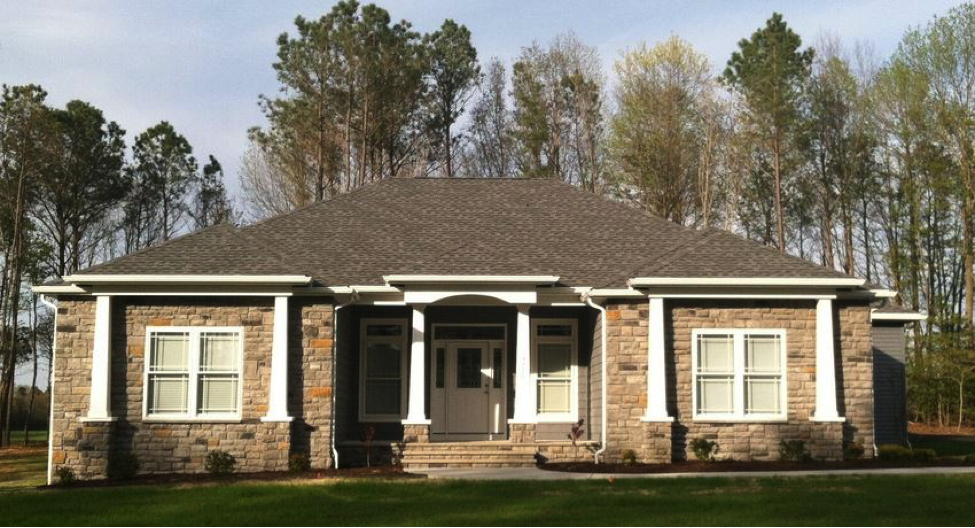 The First Net Zero Home on the Block
A heat pump, solar panels and Fox Blocks walls mean this homeowner averages an electric bill of near zero every month.
The design and construction of this home was ahead of the upcoming NZR (Net Zero Ready) building codes that are now being adopted. These proud homeowners were able to boast being the first Net Zero home in the local community.
Looking for energy-efficient solutions and storm-resistant design that homeowners will love? Talk with us about ICF solutions for your next custom home project.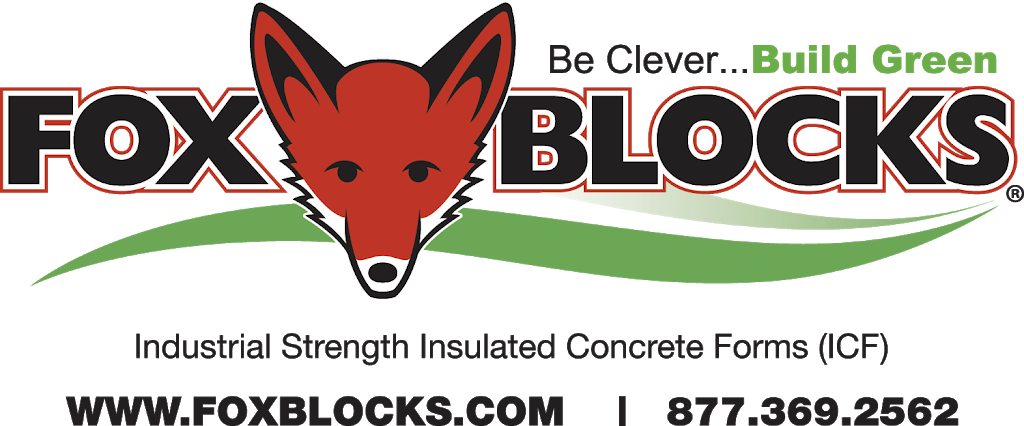 Few people would deny that striving for sustainability in the design and construction industries is a worthy goal.
In fact, it's becoming an imperative. Globally, the construction industry consumes approximately 40% of the planet's physical resources and 30% of its energy and accounts for 40% of solid waste and greenhouse gases.
Despite understanding the need for sustainability, many architects, designers and building owners see the associated costs as a barrier. The reality is that, while switching to sustainable building practices does require an initial investment, it's not as much as many assume. In addition, embracing sustainability delivers some very real benefits.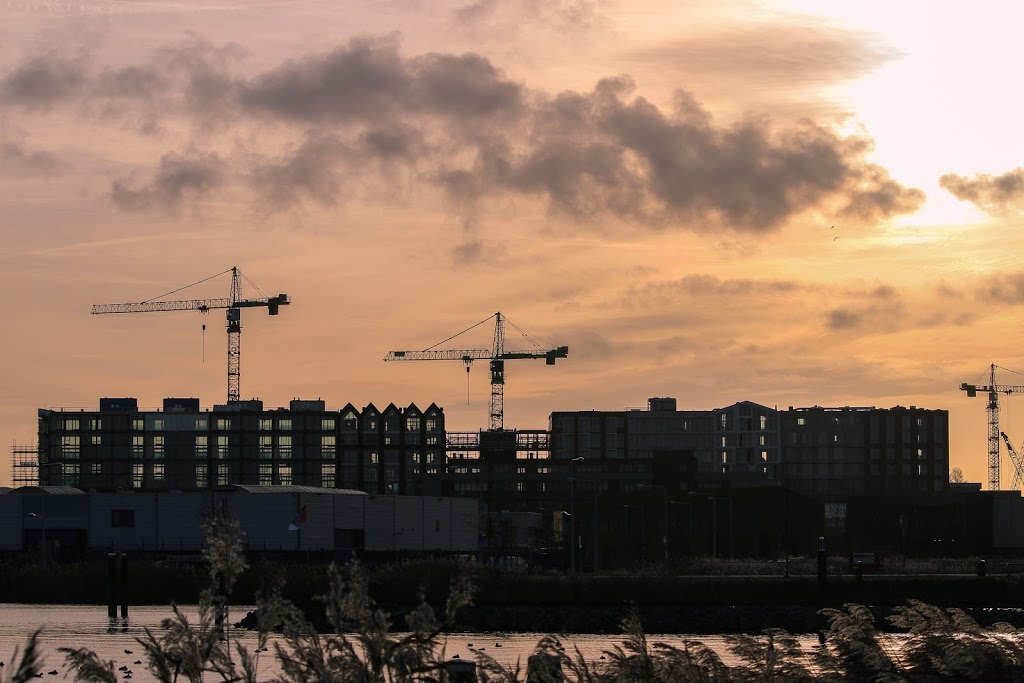 Sustainable Practices Deliver Results
Research shows that, if companies were to simply embrace existing sustainability practices (no innovation required), they could expect to see the following results:
Other benefits associated with sustainability initiatives include access to public and private grants, federal and local tax incentives, and improved public perception.
– A revenue increase of at least 9%
– A 75% reduction in energy expenses
– A 10% reduction in waste management expenses
– A 10% reduction in costs associated with the consumption of materials and water
And then there's the compounding effect. When architects, designers, engineers, contractors, suppliers, and building owners work together on sustainability, both the industry and the environment reap more benefits, more quickly.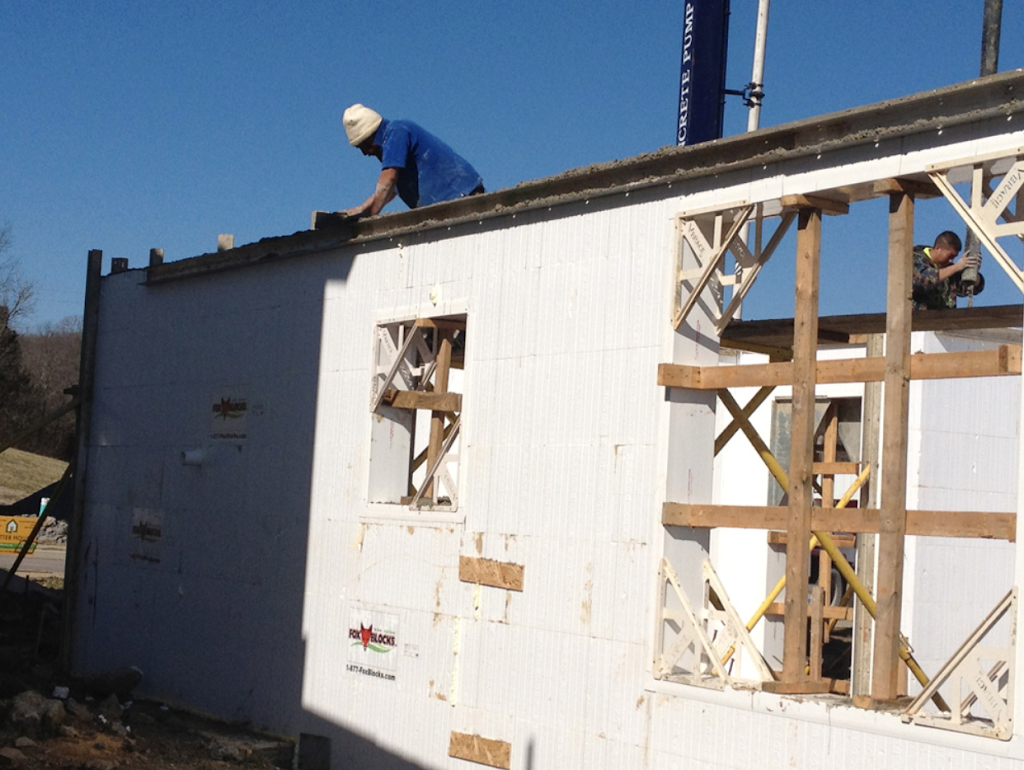 Sustainable Solutions for Affordable Housing
The two-story homes at "the woods at Monticello" include numerous energy-efficient technologies, including the use of Fox Blocks' ICF construction.
Other green features include:
-Geospring water heating systems
-SeriousWindows which have an impressive U-value of .15
-Low-wattage LED lighting
-Closed-cell spray foam for attic insulation
-An energy recovery ventilation system
The Road to Sustainable Design and Construction
As obvious as the benefits of sustainability are, getting there may mean a significant change in the way you're doing business (depending on where you're starting from, of course).
Rather than taking a piecemeal approach, it makes sense implement changes strategically by making a plan. Specific steps could include the following.
1. Preparing a case for building owners
Designing a building that's green from the ground up requires buy-in from the building owner, so think about how you can persuade them.
-Develop a standard pitch that you can tweak depending on the individual project.
-Prepare responses to common objections.
-Prepare a list of possible sources of external funding (grants, tax credits, etc.).
-Put together a few case studies you can use to illustrate your selling points.
2. Stay on top of the latest industry innovations
The green building industry is booming, so you have to make an effort to stay on top of the latest developments in related fields. Good options include:
–Entrepreneur: Construction Industry 
-Sustainable Building & Design Magazine
-EcoBuilding Pulse
-Green Building Solutions
3. Stay on top of rating and certification opportunities
While you may have to convince some clients on the value of sustainable design and construction, others will specifically search out architects, designers, and contractors with proven experience in green buildings. Rating and certification opportunities include:
-LEED certification
–WELL 
Be sure to talk about these certifications on your website and on your social media accounts (if you have them). This gives prospective clients an idea of what services you offer and will help you show up more frequently in online searches.
4. Choose the right partners 
While a sustainable building starts with the design, it also requires the participation of suppliers and contractors.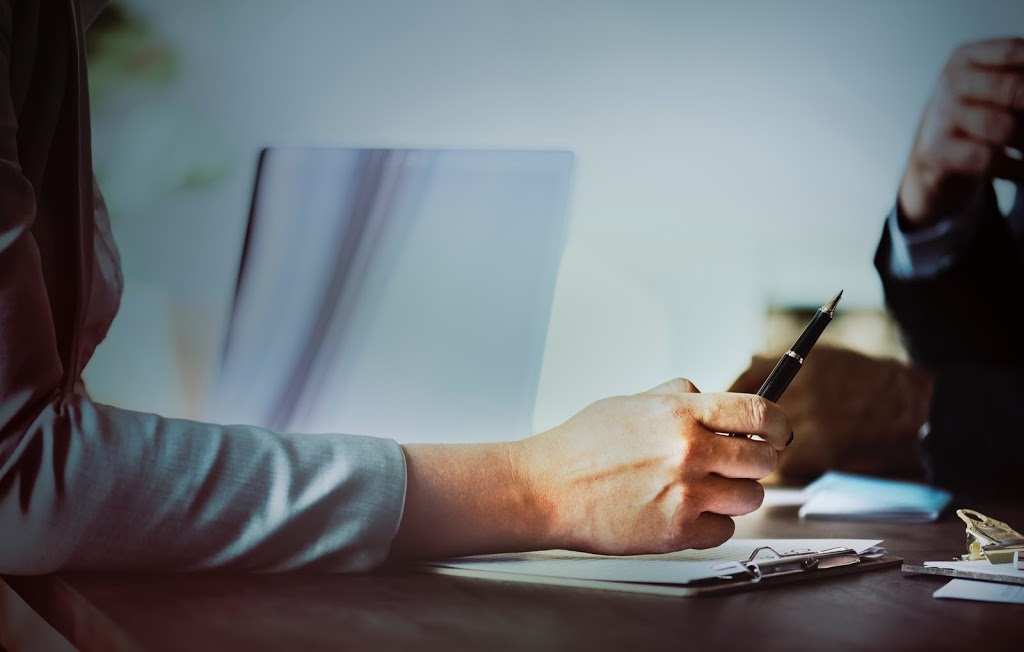 Your efforts will be more successful if you choose suppliers with expertise in green building materials and contractors experienced in applying sustainable methods on their sites.
Materials 
-ICF blocks are made with two layers of Expanded Polystyrene Insulation (EPS), surrounding a resilient reinforced concrete core. They can reduce a building's HVAC costs by up to 40%.
-Cool roofing materials reflect the sun's energy back into the atmosphere rather than transferring it into the building's interior.
-Low-E windows have a coating of clear metallic oxide that keeps heat out during the summer and in during the winter.
Methods
-On-site recycling eliminates the transportation costs (and related fuel consumption) needed to transfer materials to an off-site recycling facility. Materials like excess concrete, for example, can be crushed on site and used for foundations, parking lots, etc.
-Contractors can use silt fencing to keep wastewater from reaching local water systems. Other contractors treat wastewater on site or use walk-off mats to remove dirt and chemicals from workers' shoes.
-While on-site sorting of materials used to be common, the current best practice is to combine all waste materials in a single container to reduce the transportation costs associated with multiple half-filled containers.
-Protecting on-site vegetation is an important step in preventing soil erosion. Some contractors even use mulch to stabilize soil during non-growing seasons.
Staying Ahead in the Industry
There are many national, state and local incentive programs available that provide financial support to offset some of the capital costs in sustainable design and construction. By simply designing to meet specific thresholds for energy efficiency and sustainability, the architect, building owner or contractor can take advantage of these incentive programs and be recognized for their efforts.
Sustainable building design and construction is at a tipping point. For now, it's a competitive advantage, allowing you to establish yourself as a leader in a segment that's gaining in popularity (and will continue to do so).
Within a few years, sustainable buildings will become mainstream. They'll be the norm, and architects and designers who can't meet sustainability expectations will fall behind. Wouldn't you rather be on the leading edge?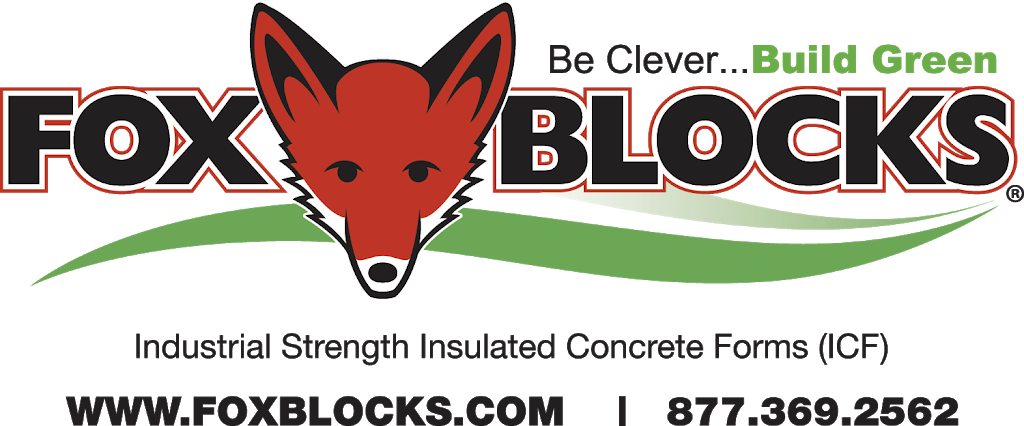 Sustainable construction and design isn't just a hot trend, it's becoming the norm. The need for environmentally friendly construction is ushering in innovative design strategies and new benchmarks for the building materials industry.
One of the most popular, and arguably important, concepts in sustainable design is the move towards zero-energy buildings. Zero-energy buildings are facilities that have zero net energy consumption. In other words, the annual net energy use of these structures is equal to the amount of renewable energy created on the site.
These projects call for the integration of renewable energy systems and zero-energy applications, which can make them a bit intimidating to builders. However, these kinds of initiatives are very possible with the right team and resources.
We've compiled a list of zero-energy homes that incorporate sustainable construction into the building process. The results are 5 facilities that prove zero net energy can be achieved with careful planning and appropriate implementation.
1. Eco Village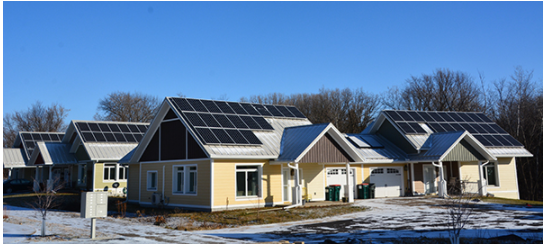 In 2013, Fox Blocks began a project in River Falls, Wisconsin. St. Croix Valley Habitat for Humanity (SCVHFH) partnered with Fox Blocks to construct the Eco Village.
Executive Director Jim Farr wanted the Village to reach LEED Platinum Certification while achieving zero net energy consumption. Fox Blocks ICF was the building product needed to reach both goals. The product not only satisfied the criteria needed for certification, but provided the heavy-duty barrier to withstand urban noise, insects, extreme weather, and the elements.
The Eco Village is now home to a healthy American community, and continues to promote sustainability and environmental involvement.
2. Deltec

Last year, a North Carolina-based homebuilding company launched its line of net zero energy homes. In response to the high demand for sustainable housing, Deltec showcased houses that are not only energy-efficient, but generate their own energy through solar power.
What makes this project so fascinating is the affordability of the homes. With a purchasing price less than $100K, these facilities are more affordable than many houses that are not LEED certified, proving that net-zero construction is cost-effective.
3. BONE Structure

This home in Oakland Hills saves up to 90% of heating and cooling costs. BONE Structure was able to attain this unique sustainable feature through its insulation system. The house has a soy-based polyurethane envelope that allows homeowners to save money on heating and air conditioning.
In addition to this insulation, the home includes BONE Structure's patented steel construction system and large windows. These features cut down on long-term costs by providing a house that is built to last and allows in an ample amount of natural light.
4. SolAire Homebuilders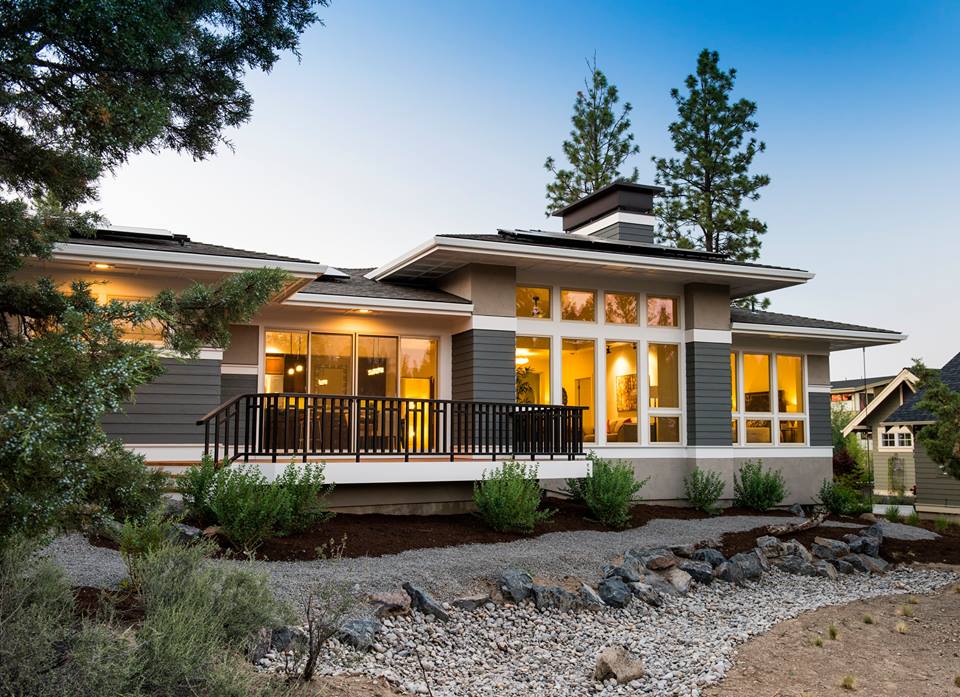 SolAire Homebuilders released this house that effectively achieves NET ZERO and ENERGY STAR certification. Like the first two structures on this list, this home attains zero net energy consumption primarily through insulation and solar power.
The builders of this home were careful to seal the entire house, preventing cold air from getting inside, while constructing the facility to reduce thermal bridging.
Inside the house, homeowners can take the initiative and save energy themselves. 100% LED lighting and Energy Performance Score model-aligned heat pumps give owners the opportunity to fully obtain net zero energy. Similar to BONE Structure's house in Oakland Hills, long-term expenses are drastically cut in this home.
5. The Zero Home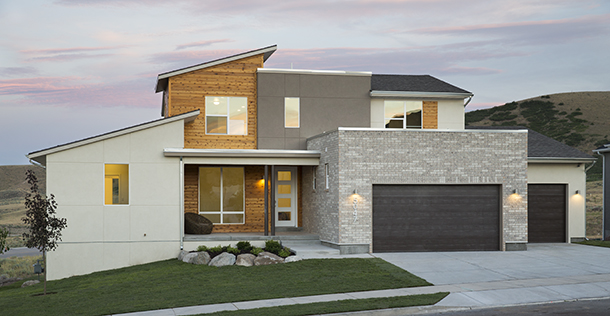 In 2013, Vivint partnered with Garbett Homes to produce Utah's first net zero energy home. In addition to advanced construction and insulation techniques, this project makes homeowners' habits more environmentally friendly.
By providing sustainable lighting, a programmable thermostat, and real-time energy analytics, residents are able to look at how they are using energy and what they can do to be more sustainable.
Not only do these homes eliminate unnecessary long-term expenses, but the initial cost is also competitive. The purchasing price of these facilities starts at $350K.
What should be noted among these 5 examples is not only the smart planning, but the cost and time of these projects. With projects such as the Eco Village breaking ground in as early as 2012, these initiatives are not brand new. This, along with the low cost of the facilities, shows that net zero energy consumption is not difficult to attain with the appropriate resources.
As LEED certification and sustainable planning become requirements for the industry, it's crucial to begin implementing net-zero and net zero ready concepts. With the right team and planning, entire net zero energy neighborhoods can be constructed.
The goal of soundproofing exterior walls is to limit noise pollution or unwanted sounds. Lessening noise is vital to the comfort, health, and communication of the occupants of a home or building. An excellent product for soundproofing exterior walls is Fox Block insulated concrete forms (ICFs). Fox Blocks ICFs reduce sound transmission more effectively than either wood or concrete masonry unit (CMU) wall construction.
Why Soundproofing Exterior Walls is Important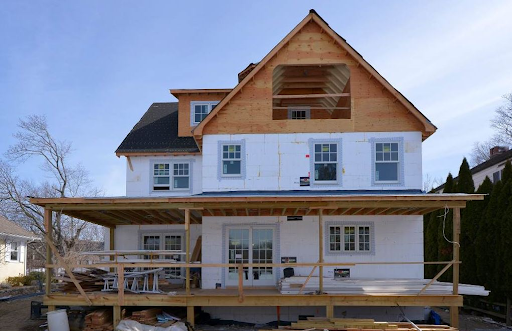 Noise Pollution is on the Rise
The need to incorporate soundproofing features in the exterior walls of today's homes and buildings has increased in recent decades. Urbanization, population growth, and an increase in air, rail, and highway traffic all have contributed to a widespread escalation of noise pollution. In fact, in 1991, it was estimated that environmental noise increased by 10 percent in the decade of the 1980's. Noise reducing exterior walls are essential to preventing unwanted and disturbing outside noise from reaching the interior of a home or building.
The Adverse Health Effects of Noise Pollution
Soundproofing the exterior walls of a home or commercial building is essential for the health and well being of the occupants. There are many adverse effects of noise pollution. Noise pollution creates stress and hinders communication. Further negative health effects of noise pollution include hearing loss, sleep disruption, cardiovascular disease, reduced productivity, and impaired teaching and learning. Soundproofing exterior walls is essential for protecting the occupants of a home or building from loud and distracting sounds.
Soundproofing Exterior Walls with Insulated Concrete Forms
Insulated concrete forms (ICFs) for exterior walls are known for their energy-efficient and disaster-resistant qualities; however, ICFs also have excellent noise reducing traits.
The foam insulation absorbs sound, and the concrete in ICFs reflects noise.
Notably, the EPS Industry Alliance (a voice for the ICF industry), reports that only about one-quarter to one-eighth as much sound penetrates through an ICF wall compared to a wood-frame wall. In addition, a study out of the University of Washington reports that ICF can reduce sound transmission 200 percent better than concrete masonry unit (CMU) walls. ICF exterior walls are a superb product for preventing noise pollution from disrupting the interior of a structure.
Fox Blocks ICFs Build Soundproof Exterior Walls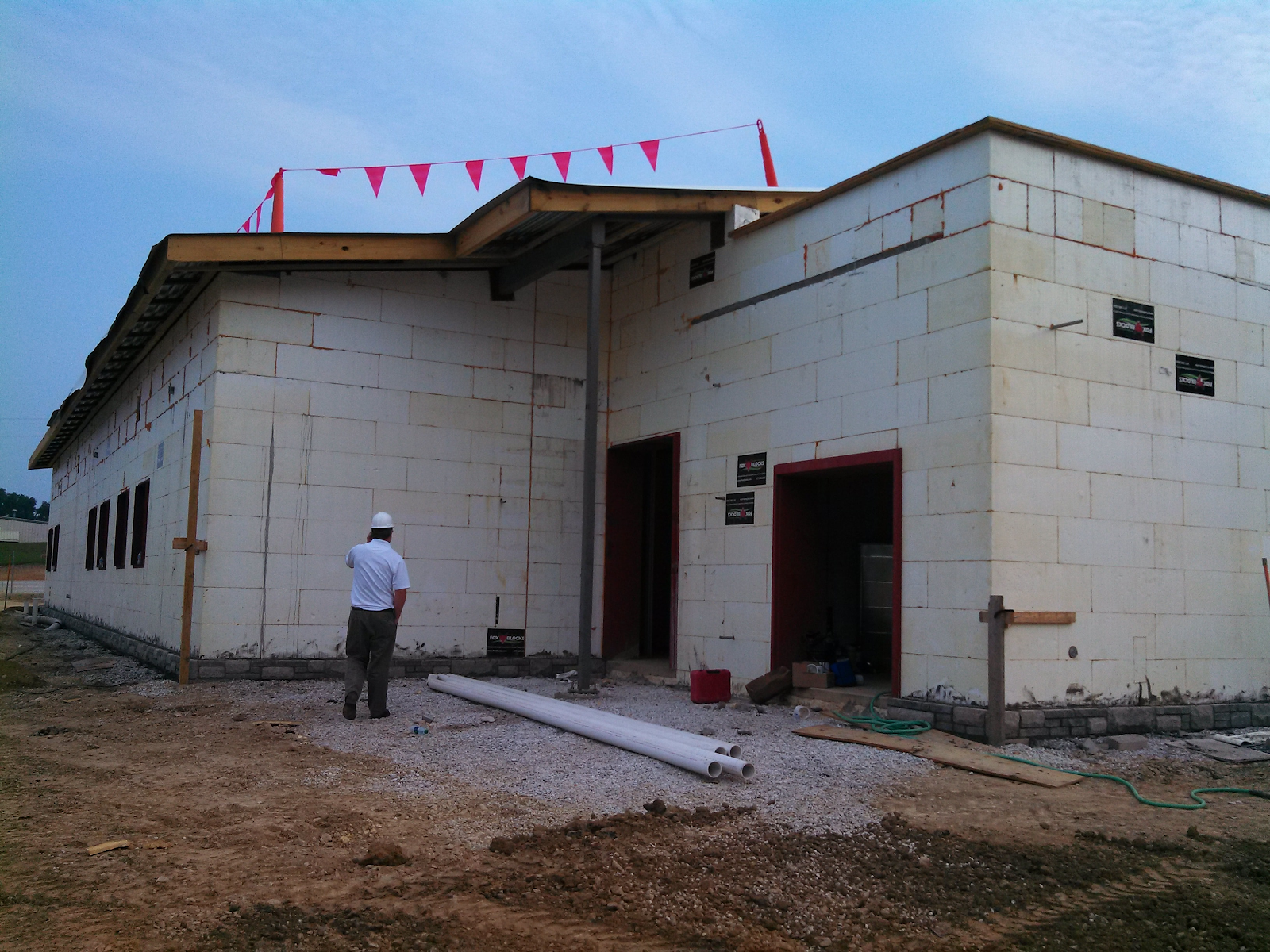 Fox Blocks is an ICF wall assembly that significantly lessens the transfer of sound from the outside to the inside of a building. Fox Blocks have a Sound Transmission Class (STC)  rating of STC 45-50+, which meets and exceed acoustic standards required in most commercial, government and educational building construction.
For instance, the ANSI S12.60 "Acoustical Performance Criteria, Design Requirements and Guidelines for Schools" mandates that exterior and interior walls of offices, conference rooms, and main corridors in schools achieve a minimum STC of 45 and that classroom walls obtain a minimum STC of 50. Fox Blocks walls ensure a quiet and peaceful interior for a home, hospital, school or any indoor space.
More Advantages of Fox Block ICF Exterior Walls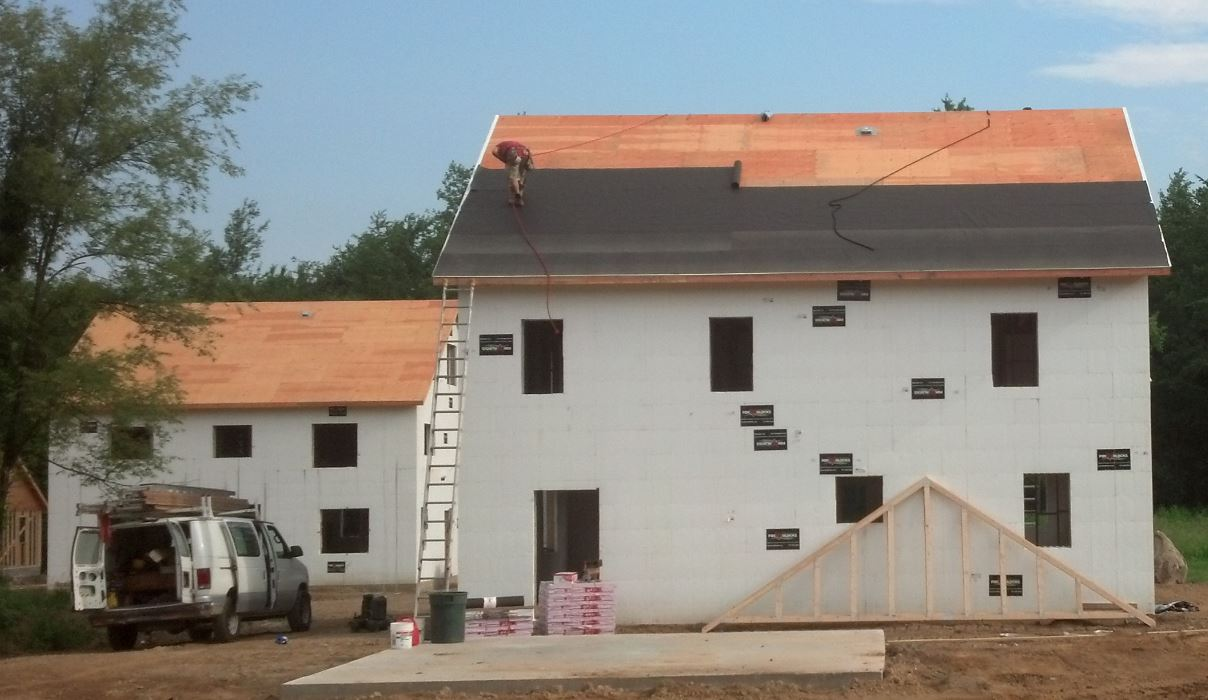 Along with Fox Blocks noise reducing qualities, Fox Blocks have many components today's builders, and architects strive to include in the design of their new homes and buildings. Fox Blocks create disaster-resistant and energy-efficient homes and buildings.
Fox Blocks ICF are Fire-Resistant
Fox Blocks have a fire-resistance rating (ASTM E119) of 4 hours for the 6-inch blocks and 2 hours for the 4-inch blocks.
Fox Blocks Protect Against Strong Winds and Flying Debris
ICF wall systems, like Fox Blocks, build a strong continuous path that ensures a building can maintain its integrity against winds above 200 mph. ICF walls also can resist damage debris flying over 100 mph.
Fox Blocks are Energy-Efficient and Moisture-Resistant
Fox Blocks insulated concrete forms exceed ASHRAE/ANSI 90.1 energy code requirements, and create an energy-efficient structure with superb moisture resistance and energy performance. They also provide continuous insulation with an R-value of 23+, which create an airtight building envelope with better performance than wood- or steel-frame construction.
Fox Blocks high-thermal mass contributes towards a high-performing building or home by absorbing and storing heat energy. Fox Blocks provide a solid continuous monolithic concrete wall with a perm rating of less than 1.0, which controls moisture intrusion and prohibits the growth of mold, mildew, and rot.
Fox Blocks create soundproof exterior walls that contribute to the comfort and communication of a building's or home's residents. Decreasing noise pollution inside a building or home also reduces the occupants stress level, and lessens the risk of hearing loss and heart disease. Fox Blocks insulated concrete forms are a best practice for soundproofing exterior walls.
An excellent choice for wind-resistant home design is Fox Blocks insulated concrete forms (ICF). Fox Blocks build wind-resistant walls that protect a house, the valued contents and family from dangerous winds and flying debris during severe wind events.  
Wind-Resistant Home Design is Critical to a Family's Safety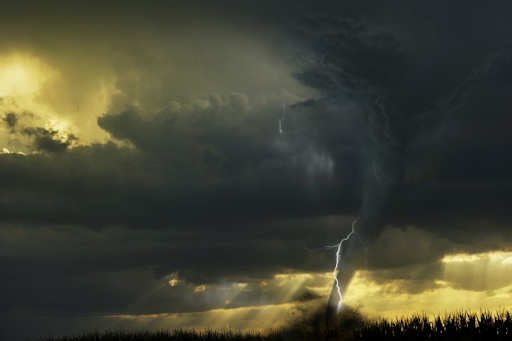 A wind-resistant home protects the house and the family from dangerous wind events like hurricanes and tornadoes. During a severe wind event, both a collapsing house and flying debris threaten the lives of the occupants of a home. Tragically, between 2000 and 2017 there were 894 wind and 1417 tornado-related deaths. In 2017, 36 percent of the wind and 63 percent of the tornado-related fatalities happened either in a mobile or permanent home. A wind-resistant design is critical to a home's integrity and a family's safety.
Critical Elements of a Wind-Resistant Home
A wind-resistant home should remain standing during and after strong wind events. It should also have the strength to prevent flying debris from penetrating the wall system.
Essential to wind-resistant home design is a continuous load path, impact resistance, and strong roofs, walls, floors, and foundations. In addition, FEMA, highly recommends a safe room1, or tornado shelter, for maximum protection to a home's occupants during a severe wind event.
A Continuous Load Path is Vital to a Wind-Resistant Home
A continuous load path is a home's best protection against intense winds. When uplift and lateral (horizontal) loads attack a house, a continuous load path will transfer the loads from the roof, wall, and other parts, toward the foundation and into the ground. A strong continuous load path is key to holding the roof, walls, floor, and foundation together during strong winds of over 200 mph.
Impact Resistance is Crucial to a Wind-Resistant Home
An impact resistant wall system, like one built with ICF, is essential for protecting a structure and its occupants from flying debris during a severe wind event. Notability, ICF walls produce greater resistance to damage from flying debris than wood-framed walls. Homes constructed with ICF walls preserve the house and protect its occupants from flying debris during severe wind events of over 100 mph.   
Fox Block
ICFs Create Wind-Resistant Homes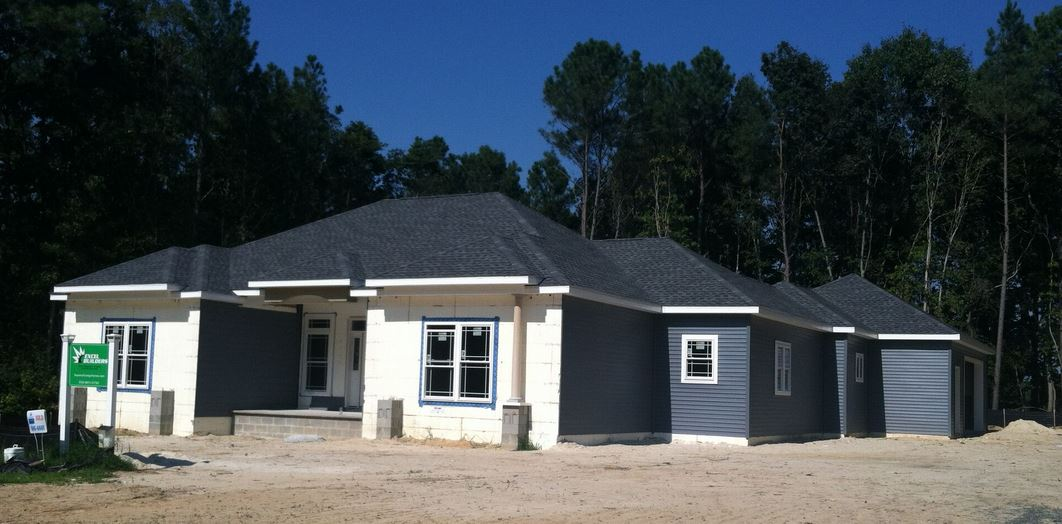 Homes built with Fox Blocks insulated concrete forms (ICFs ) ensure a wind-resistant house with a strong continuous load path that holds the walls, floors, foundation, and roof together during an intense wind event. Fox Blocks also resist projectile debris traveling over 100 mph.
Fox Blocks Home Stand up to an EF5 Tornado
For example, in 2013, a powerful EF5 tornado that hit Moore, Oklahoma proved the strength and integrity of Fox Blocks ICFs. The tragic event wiped out most of Moore's neighborhoods, and killed 24 and injured 212 people. Left standing, however, was a  ICF home built in 2004. For maximum safety against severe wind events, homeowners, builders, and architects are wise to select Fox Blocks ICF for their next home construction project.
Roof Construction of a Wind-Resistant Home
During dangerous strong-winds, home failures often begin with damage to the roof. A roof's role, in a continuous load path, is to move the loads imposed by intense winds to the supporting walls underneath. The roof sheathing and framing move lateral loads to the home's shear walls. For the protection of a home during an intense wind event, the house and sizing of the roof framing and sheathing must be in accordance with the wind forces of the area.
Roof Sheathing
FEMA's Building Framing Systems and Best Practices authorizes the use of common nails to connect roof sheathing to supporting components in regions where wind speeds are less than 100 mph. In higher-wind regions, FEMA mandates ring-shank nails. Recommended in the corner zones eaves of the roof, where winds can cause massive uplifts, are wood nails.
Roof Framing
After the roof sheathing, the roof framing is the next component found within the load path of a building. The roof framing moves lateral loads to the shear walls. The rafters of a roof's frame must be sized to withstand the weight of the roof system, and also the loads produced by wind.
Floor Construction of Wind Resistant Homes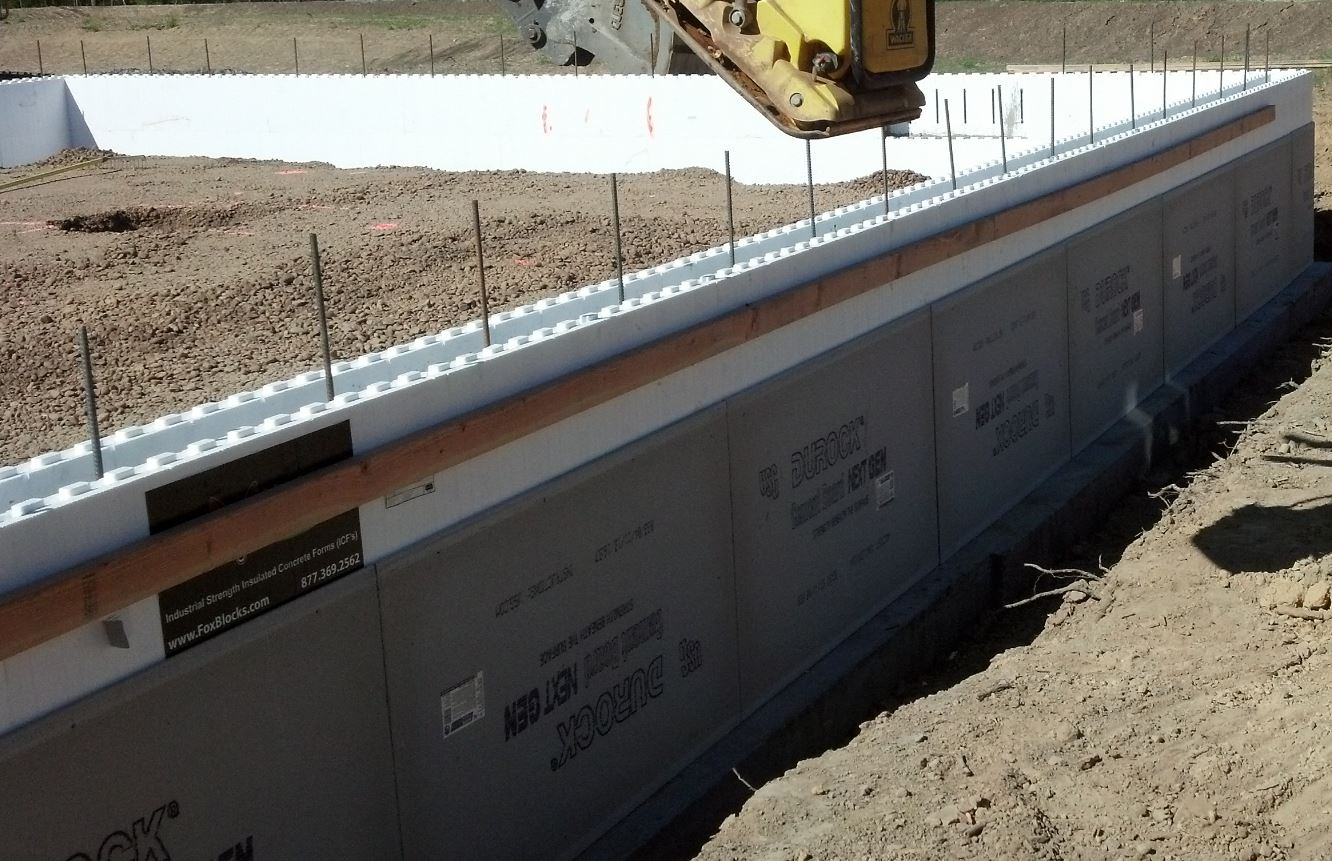 The floor system of the continuous load path moves the loads to the shear walls in the floors below or to the foundation. Floor framing often consists of dimensional lumber, or floor joists, spanning an open area. Floor joists must be sized to withstand the loads of the whole floor system along with vertical loads. The floor of a wind-resistant home ensures the loads reach the foundation and eventually the ground.
A wind-resistant home must include a continuous load path that protects against flying debris and keeps the roof, walls, floors, and foundation attached during a severe wind event. An excellent product for a wind-resistant home is Fox Blocks ICFS. Fox Blocks build wind-resistant walls that protect a house and family from treacherous winds and flying debris. For more information on wind-resistant home design, please visit Fox Blocks.
Fire-resistant houses are essential for protecting homes and families against increasing wildfires in the United States. Vital elements of a fire-resistant home design include passive fire protection with fireproof roofs, window, door, vents, and exterior walls, like ones built with Fox Blocks insulated concrete form (ICF) wall systems.  
Why Design a Fire-Resistant Home?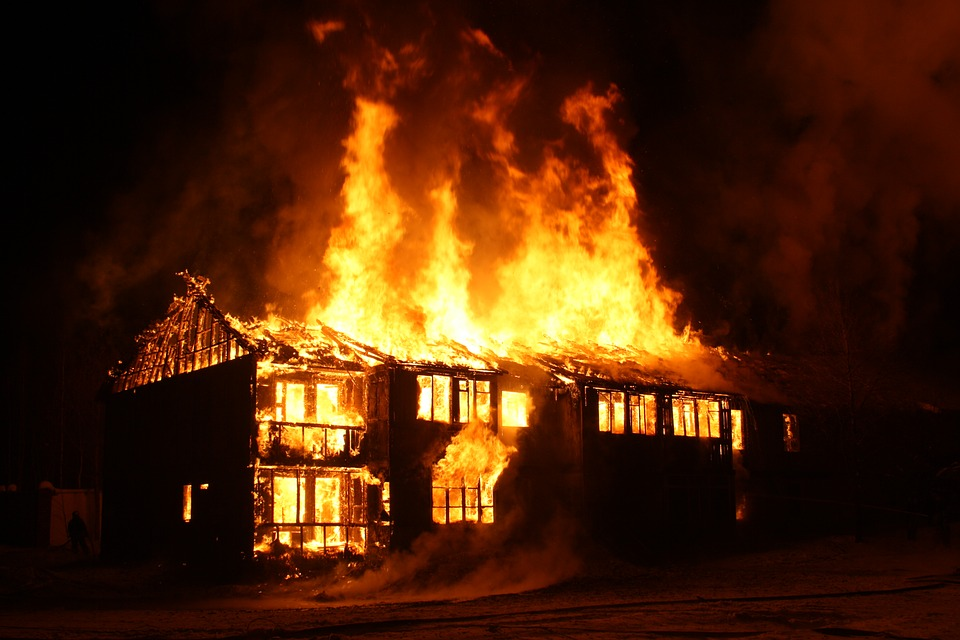 Building a fire-resistant house is vital for today's homeowners that want to protect both their homes, valued contents and families. The increasing focus in fire-resistant home design is highly due to a rise in wildfires and longer wildfire seasons. In 2017, there were 31,017 wildfires in the United States (U.S.). An 8 percent increase over 2016. Many scientists blame the rise in wildfires on climate change, which is causing an increase in global temperatures, drier forests, and earlier snow melts.
Regrettably, according to Verisk's 2017 Wildfire Risk Analysis, 4.5 million homes in the U.S. are at high or extreme danger of wildfire, a fact that supports the need for fire-resistant components in new homes. An essential element of fire-resistant home construction is passive fire protection. Passive fire protection provides for fire-resistant exterior walls, doors, windows, roofs, and vents.
Passive Fire Protection in Safe Home Design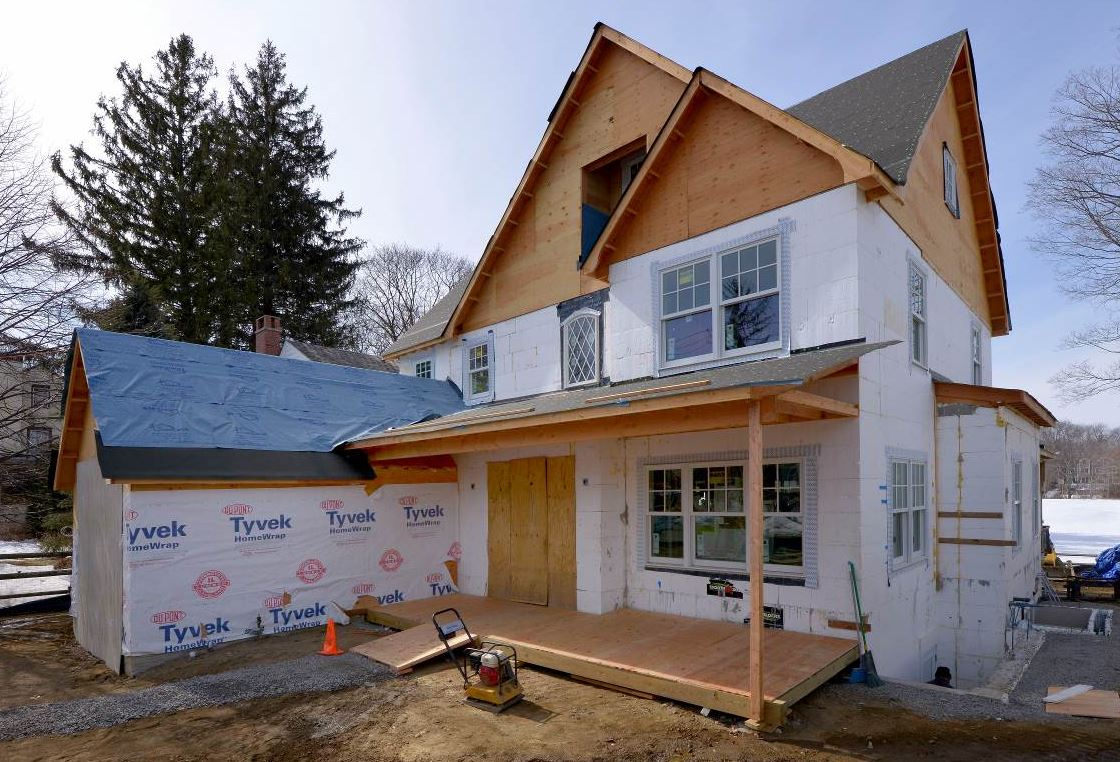 Passive fire protection guards a family and protects the house by controlling the spread of fire and smoke. Passive fire protection includes firewalls, smoke barriers, horizontal assemblies, and fire partitions. Passive fire protection is often not visible to the residents; however, it's vital in saving lives and protecting property when a fire happens. Passive fire protection reduces the spread of fire and smoke through vertical openings and stops the collapse of a house. Passive fire protection can save the family and home in the event of a fire.
Fox Block Wall Systems for a Fire-Resistant Home
A crucial component of passive fire protection of a fire-resistant home is the wall system. A superb choice for passive firewall protection is Fox Blocks ICFs. The 6-inch Fox Blocks have an ASTM E119 fire rating of four hours (twice the two-hour requirement), an ASTM E84 reported values for flame speed of less than 25 and smoke development of less than 450.
Along with excellent fire-resistance, Fox Blocks are disaster-resistant, noise reducing, and energy-efficient with an R-value of 23+. Additionally, because Fox Blocks provide a solid continuous monolithic concrete wall with a perm rating of less than 1.0, Fox Blocks control moisture accumulation, which prohibits the growth of mold and mildew.
A best practice for a fire-resistant home includes a fire-resistant wall system, like one built with Fox Blocks ICFs.
The Roof for a Fire-Resistant Home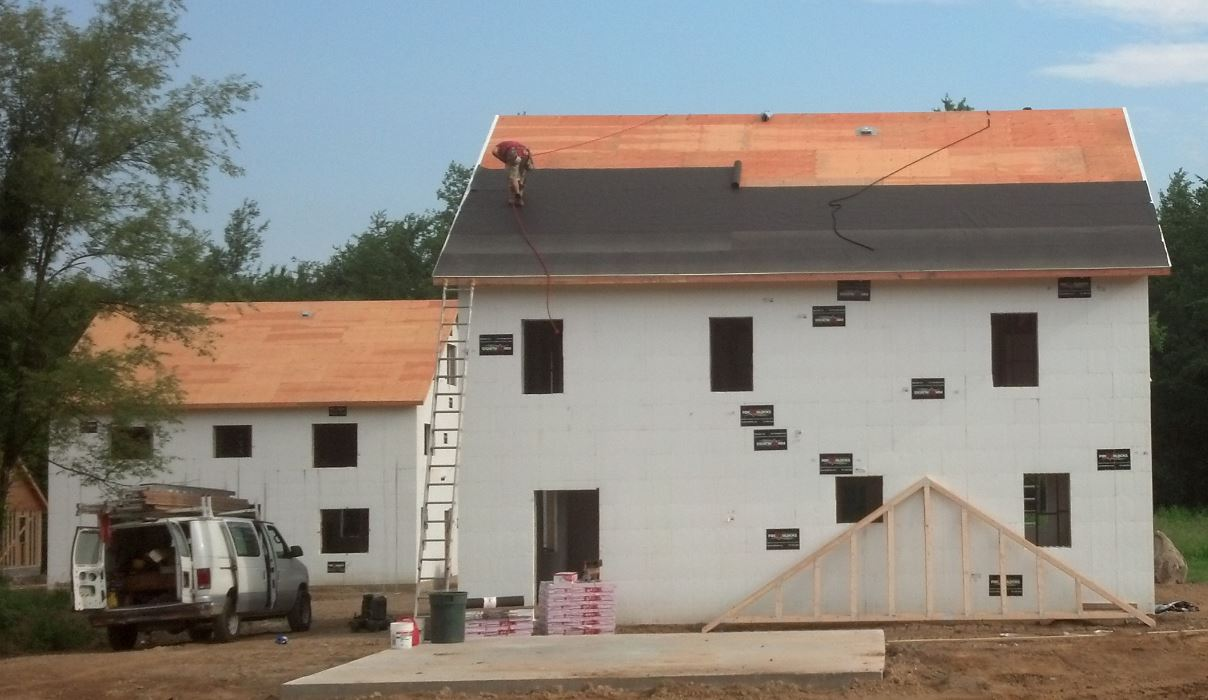 The roof of a fire-resistant home must resist catching fire. Roofs are susceptible to fire from burning debris, fireworks, lightning, wildfires, chimney fires, and sparks. Constructing a roof with fire-resistant products is a home's best defense against a roof fire.
Fire-testing exposure of roof assemblies is in accordance with ASTM E108 or UL 790. The treating of fire-retardant-treated wood roof coverings should also be in accordance with ASTM D2898. The UL 790 has three classes of fire-resistant roofing. A best practice for constructing a fire-resistant home uses Class A roofing.
– Class A roof coverings protect against severe fire test exposures and will not slip from a position or produce flying brands. Examples of Class A roof materials are slate, asphalt glass, concrete tiles, clay tiles, and fiber composition shingles.
– Class B roof coverings protect against moderate fire test exposures to the roof deck, will not slip from a position or produce flying brands. Examples of Class B roof materials are shingles and pressure-treated shakes.
– Class C roof coverings protect against light fire test exposures and will not slip from a position or produce flying brands. Examples of Class C roofing products are particle board, plywood, and untreated wood shakes and shingles.
Windows and Doors for a Fire-Resistant Home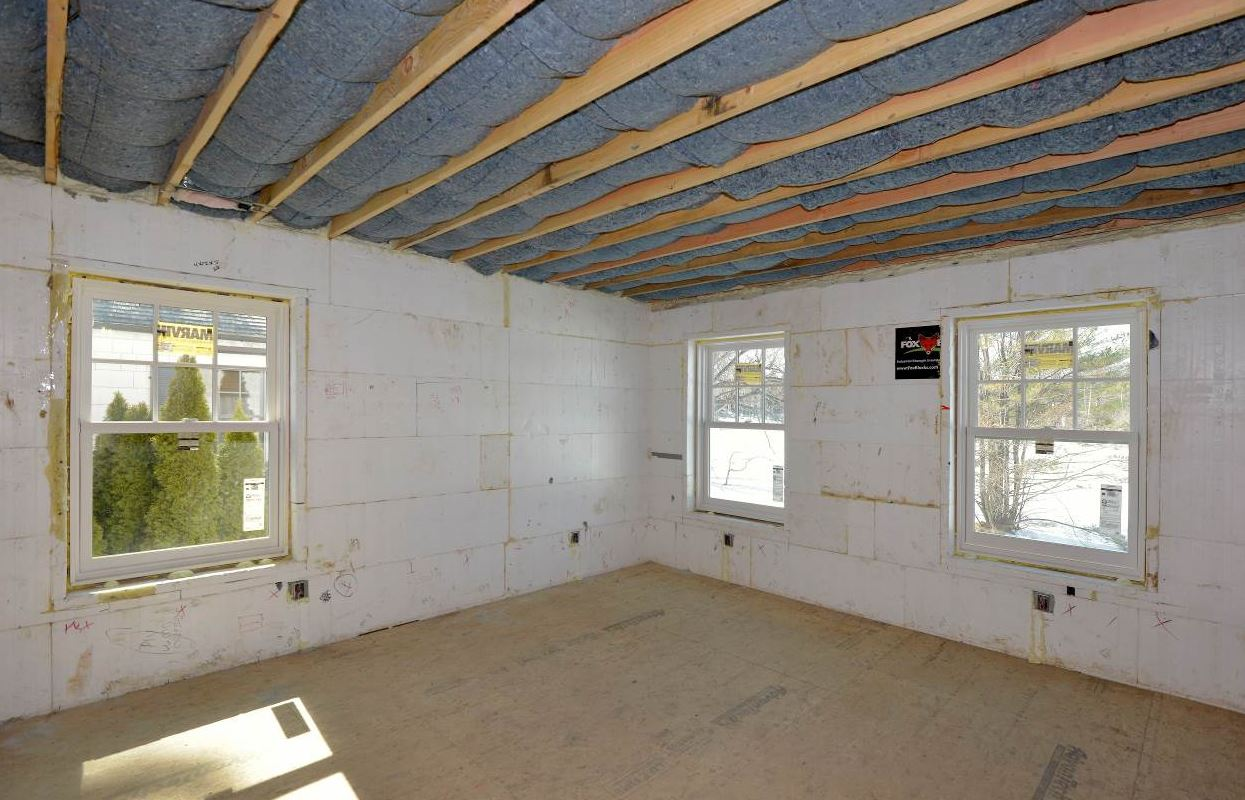 Fire-resistant glass in the windows and doors is a critical component for a fire-resistant home. Classification of fire-resistant glass in doors and windows is by their integrity and insulation. Integrity is the measure of time the glazing holds the smoke and fire in an area and reduce the spread of the fire. Insulation is how long the glazing material shields the home's residents from the heat radiating from a fire. Fire-resistant design of a home must consider the windows and doors.  
Vents for a Fire-Resistant Home
Because flames and ashes can enter a home through vents, the design of the vents must resist these intrusions. There are a few methods for protecting vents from flying embers.
– Protect vents in eaves or cornices with baffles to make a barrier between the vents and the embers.
– Cover the vent openings with 1/4-inch to 1/8-inch  metal mesh.
Fire-resistant homes are essential for the integrity of the house and the safety of the homeowners. Critical components of a fire-resistant home include passive fire protection shields and fireproof exterior walls, roofs, window, door, and vents. Please visit Fox Blocks for more suggestions for building a fire-resistant home.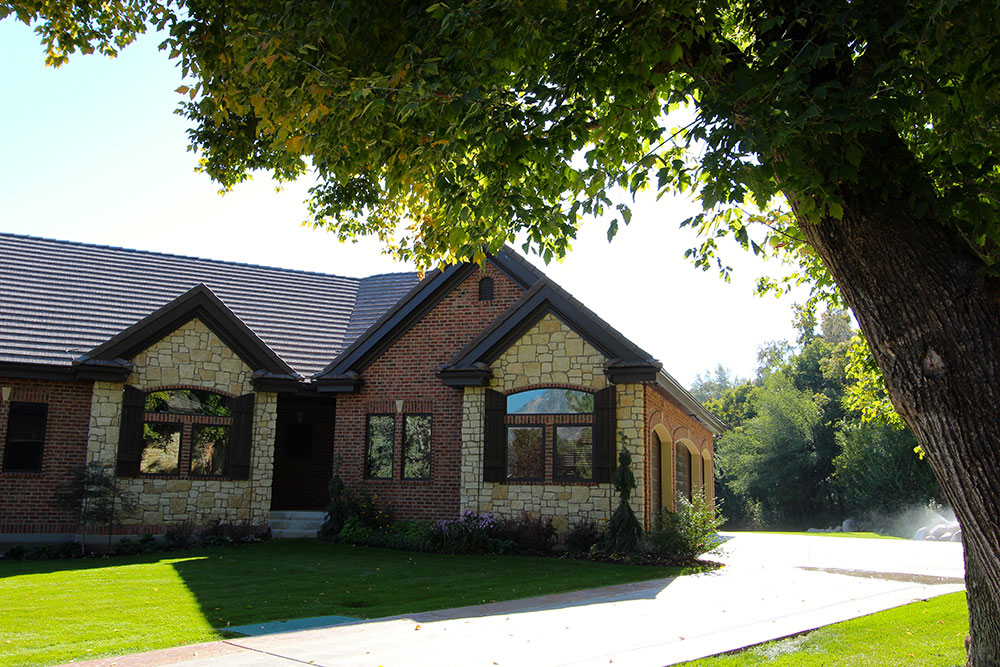 Stylish designs for aging in place
 Space
A key concern for older homeowners is maneuverability. Whether they're using a walker or a wheelchair, they need space to turn around and change directions. Fortunately, open and accessible floor plans are incredibly popular, providing easy passage from kitchen to dining room to great room, and eliminating doors and hallways in those areas.
In areas of the home where doors and hallways are necessary, making them wider than normal facilitates maneuverability without drawing attention to it. The extra width blends seamlessly into the overall open floor plan
Storage
 Accessibility
That, too, can be accomplished with elements that look like a natural part of the home's design:
-Bathroom sinks or vanities with plenty of knee clearance underneath
-Staggered kitchen islands so that work surfaces are accessible to people with differing needs
-Lights triggered by motion sensors or controlled by smart home devices
-A built-in seat in the shower
-Universal design principles like no-barrier, zero-step entryways and showers
-Electrical outlets that are 18 to 24 inches above the floor, reducing the need to bend down
Ease of maintenance
The need to do household chores shouldn't be the thing that forces retirees out of their homes. There are several design elements that can reduce the burden of maintenance.
Around the interior of the home, LED light fixtures can replace standard fixtures, because they require less frequent bulb changes. Quartz countertops are resistant to stains and scratches, are more durable, and require less cleaning and maintenance than granite.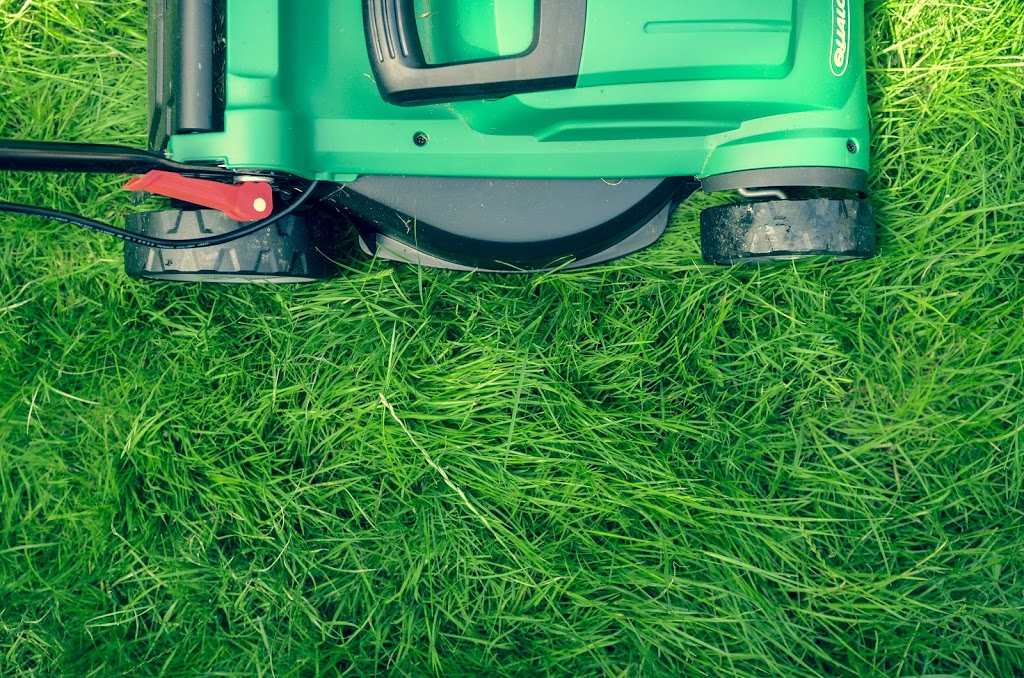 Safety
Safety features are also a concern for homeowners planning to age in place. There are a number of solutions that optimize safety and easy access for homeowners in a manner that aligns with their personal style.
Reduce trip hazards by eliminating level changes whenever possible. Where level changes are unavoidable, draw attention to the change in height with a visual signal like a change in color or pattern.
Avoid flooring materials that inhibit depth perception, like busy patterns or surfaces that are prone to glare. Choose flooring materials that minimize slips and falls and offer as soft a landing as possible. While carpeting is soft, for example, the thick pile can be a trip hazard for homeowners with mobility challenges. Good options include cork, rubber and linoleum.
Designers should anticipate that homeowners may slip and reach for something to break their fall. Add design elements like chair rails and shelving that can be used for support, and make sure they're capable of bearing the weight. To avoid kitchen injuries, cabinets shouldn't be installed over the cooktop.
Designers should also choose construction materials manufactured to withstand storms, fire or other disasters. Since aging homeowners may have a reduced ability to respond to an emergency, design the home itself to provide as much protection as possible.
Solutions for the Life of the Home
Designing for aging in place combines the best features of universal design, accessibility and flexible design to create a home that will provide shelter, comfort and pleasure for years to come.
With the vast majority of homeowners hoping to stay in their homes as they age, your goal is to design a home that meets your clients' interests now, while also accommodating needs that may pop up down the road.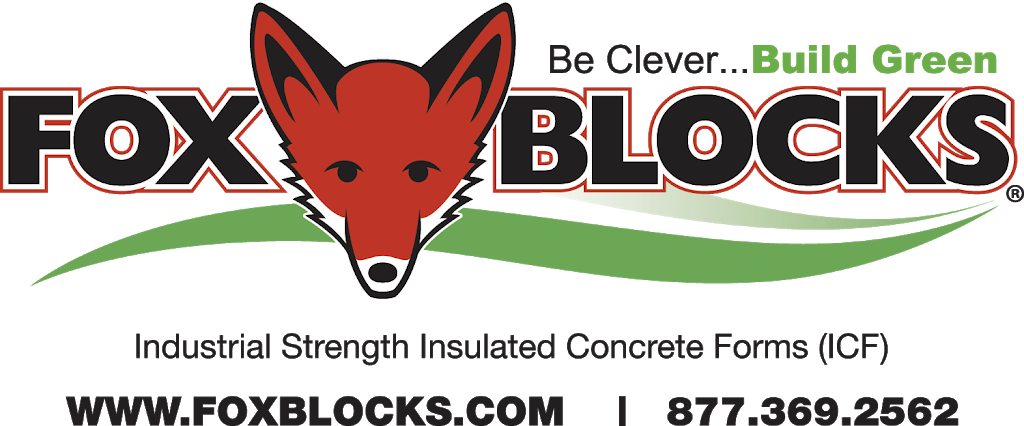 Some homeowners think about safety and security, seeking as much protection as possible from natural disasters and other unpredictable life events. Others may mention that they want to be able to stay in their homes as they age. Some might want to leave the home to future generations of family members, while others may have a passion for environmental sustainability.
Comments like that all point to the same thing: a client who wants a home designed with the future in mind. And, by keeping up with the latest developments in future-focused design, you can provide the solution.
What does it mean to design with the future in mind?
Future-focused design is based on the conviction that a house can be built to accommodate changes in factors like climate, building and energy codes, and owner preferences while minimizing its environmental impact and providing comfort. Examples include:
-Universal design
-Flexible use
-Sustainable design
-Resiliency in design
-Aging-in-place design
Universal design
Universal design (sometimes called "barrier-free design") is about inclusivity and recognizing that you can't always predict future needs. It focuses on creating a space that can be used by all potential occupants, regardless of their age or physical abilities. Key principles include:
Accessibility This principle focuses on making sure all areas of the building are accessible, appealing, safe and easy to use for everyone. One way to do that is by making sure there is adequate space for people using assistive devices to open and navigate their way through doors. Other examples include step-free entryways and cabinets and shelves that are at a height accessible to those in wheelchairs, people with limited reach, etc.
Simple and intuitive use This principle focuses on eliminating unnecessary complexity. Users shouldn't have to make an effort to figure out how to access particular areas of the home or how to use certain features.
Perceptible information This principle focuses on communicating necessary information in a variety of ways. In a commercial building, that might mean fire alarm systems that use both light and sound to guide people to escape routes. In a home, it could mean sticking to a simple design where essential areas like kitchens and bathrooms are directly accessible from a central gathering area (like the family room) instead of via a maze of hallways.
Tolerance for error This principle is based on the reality that all people make mistakes. Toddlers can stumble and fall, or elderly family members may accidentally leave appliances on or faucets running. In those cases, universal design could mean minimizing fall hazards or including automated safety features.
Low physical effort This means that people shouldn't have to exert themselves just to function in the home. Examples include specifying doors and windows that are easy to operate or drawers that extend to their full length.
Solutions for Universal Design
At its best, universal design enables inclusivity without making itself obvious. For example, when they're part of the overall design strategy, wide hallways and doors don't stand out as "accommodations." Instead, they contribute to an overall feeling of space and openness.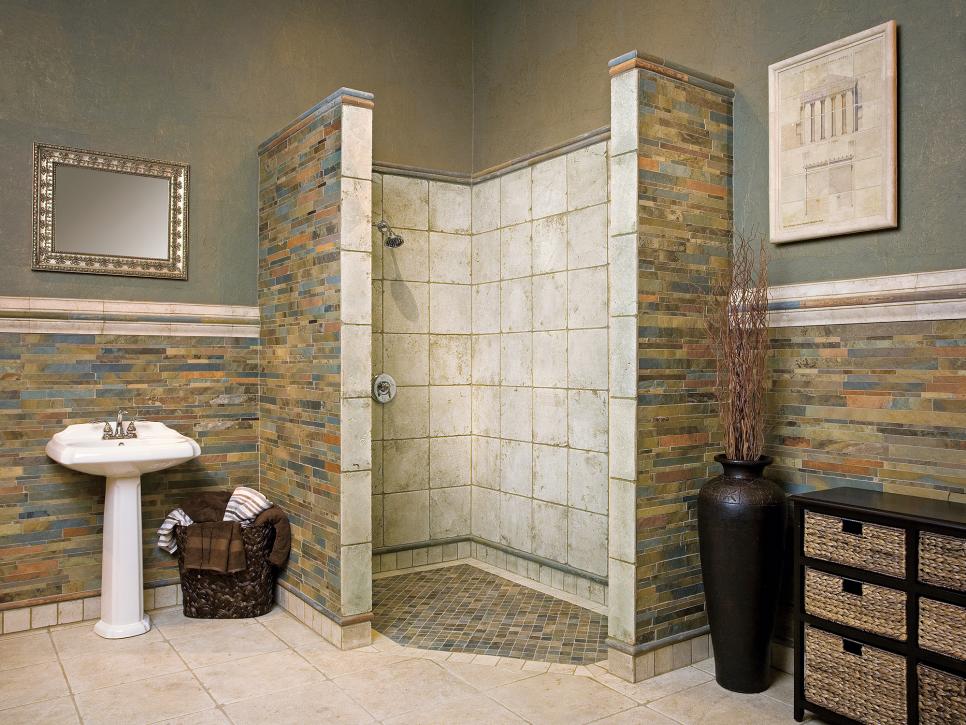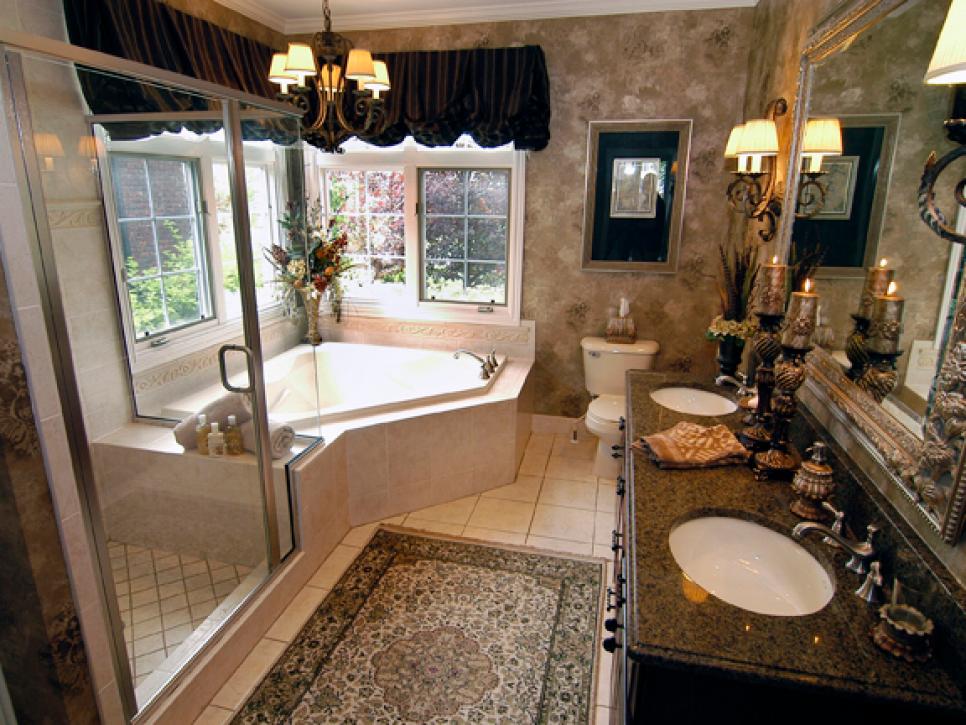 Something as simple as widening the space between tiles and using more grout can make a bathroom floor more slip-resistant.
Flexible use
Flexible use is based on two fundamental beliefs: First, one solution can serve multiple needs. Second, occupants should be able to easily change the way they use their home as their needs change.
Many homeowners have taken "flexible use" into their own hands, such as families with young children who use their dining room as a playroom. And many homeowners have converted their garages to additional living space.
Solutions for More Flexible Design
Today, architects are designing a variety of floor plans with that type of flexibility in mind, focusing on spaces that can be used for different purposes throughout various life stages: bedroom, office, playroom, etc.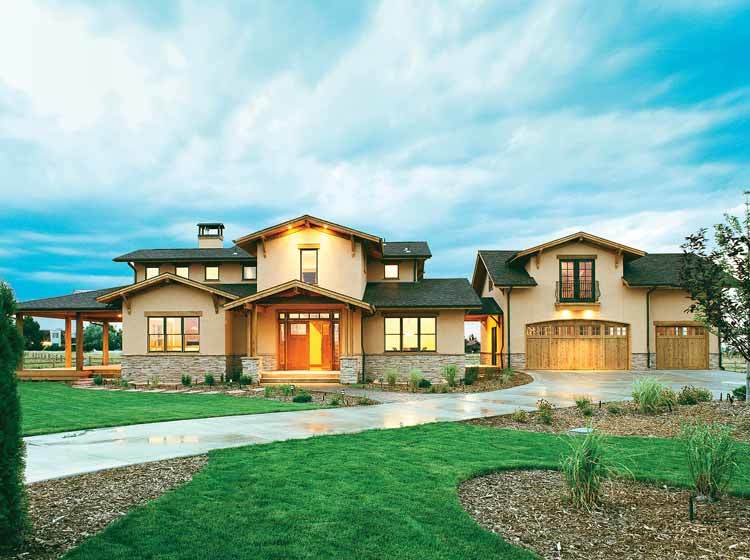 The loft over the garage in this luxury home can be used as an office, an entertainment room, or even an in-law suite.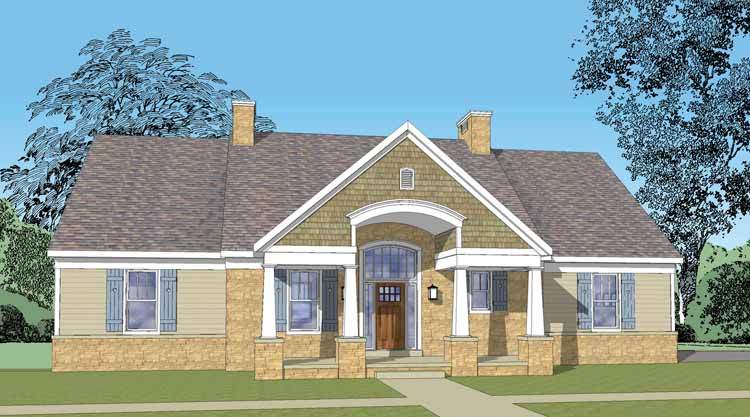 Sustainable design
Sustainable design is all about protecting both the environment and a home's occupants. It's built around several interrelated principles:
-Making the most of the site's potential
-Minimizing the consumption of non-renewable energy resources (both during construction and throughout the home's lifecycle)
-Choosing materials and products with a low environmental impact
-Conserving water and protecting nearby sources of water
-Achieving the optimum indoor environmental quality
-Ensuring ease of operation for a comfortably and health indoor environment
-Choosing materials and products that have long term resiliency and require low maintenance
Solutions for Sustainable Design
The fundamental concept of sustainable design is to incorporate these principles into every step of the design and construction process, so that the home is built from the ground up with sustainability in mind.
This custom home, with over 5,000 square feet of living space, incorporates energy-efficient ICF blocks with traditional wood framing. The resulting luxury home is healthy, air-tight, quiet, comfortable and sustainable.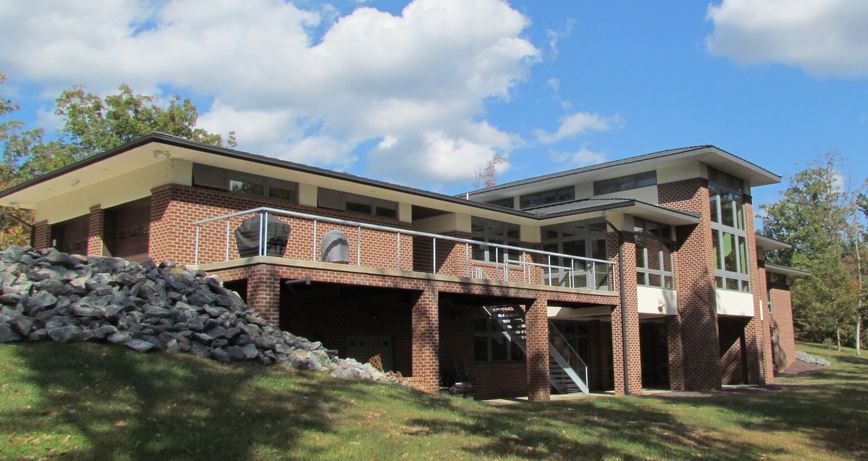 This 10,000-square-foot home is fully outfitted with sustainability features that include building envelope construction, two inches of foam insulation under the basement slab, a holistic HVAC system, passive solar heating, hydronic radiant floor heating and a rain harvesting system.
Resiliency in Design
Designing for the future must consider the ability of the home to withstand the changing environment. Depending on the location of the home, considerations should be made in the design process for the influences of hurricanes, tornados, fires, floods and other weather events.
Standard materials like ICFs, hurricane proof windows and hurricane roof attachments, plus FEMA-approved details and design techniques for building a resilient home, are readily available and have been used and tested for years.
Design to make a home resilient from the following:
-Flying debris from high winds that may penetrate walls
-Fire
-High wind events
-Seismic events
-Floods
-Mold and mildew
Building for the future by incorporating resiliency and energy-efficiency in the design process is being recognized by insurance agencies, appraisers, realtors and financial institutions. This provides not only security and comfort to the owner but on-going financial incentives for the life-cycle of the home.
Aging-in-place design
According to the AARP, older homeowners overwhelmingly prefer to stay in their own homes throughout the aging process. Some clients looking for an aging-in-place design may come to you asking about a remodel, while others will want to build a new home that will meet their needs now as well as throughout their retirement years. Features that make a home more livable for residents include:
-A low-maintenance exterior
-Low-landscape maintenance (think lawn, leaves, watering needs, etc.)
-At least one no-step entryway, ideally under cover
-Non-slip flooring, especially near exterior doorways where occupants may walk while wearing wet shoes
-Interior doorways operated by levers instead of doorknobs
-Ramps and handrails, if needed
-Faucets operated by levers or foot pedals instead of traditional fixtures
-Lower-than-average counters and cabinets
-Glass-fronted cabinet doors to make it easier for the owners to find what they need
-Open shelving
Solutions for Aging-in-Place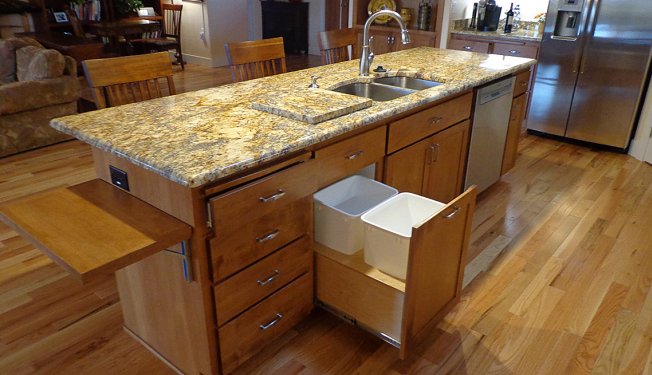 The fold-down shelf at the end of this island can serve as a prep area for a homeowner in a wheelchair or who simply who prefers to sit. (It would also make an excellent coloring nook for small children.)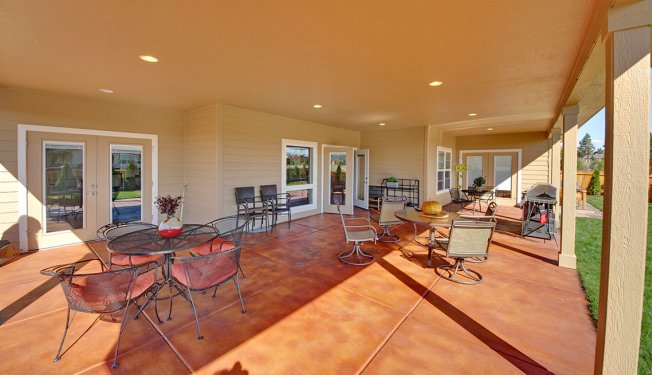 The no-step patio entrances in this home guarantee patio access to older homeowners using walkers or wheelchairs. But they also make the patio easier to use for people at other life stages: No-step doorways remove trip hazards for toddlers as well as for adults carrying platters of food to the patio.
Designing for Future Success
Designing for the future means designing for lifelong residential comfort. It means providing clients with a home that will accommodate their family through the generations, rather than a house where the owners live for one phase of their lives. Designing with the future in mind comes down to creating a home where your clients feel secure and comfortable, whatever the future may have in store.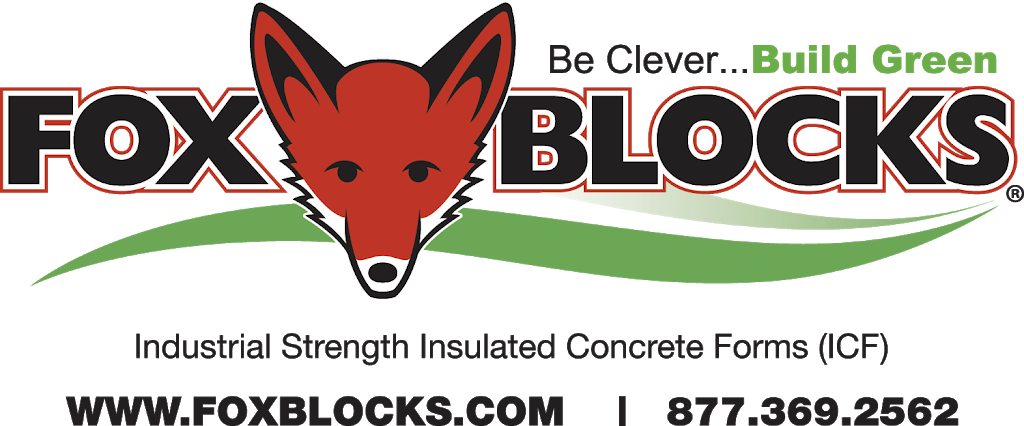 The owner of this 6,000 square foot home was attracted to Fox Blocks because of its energy efficiency but was also happy with the ease of construction that save time and money.