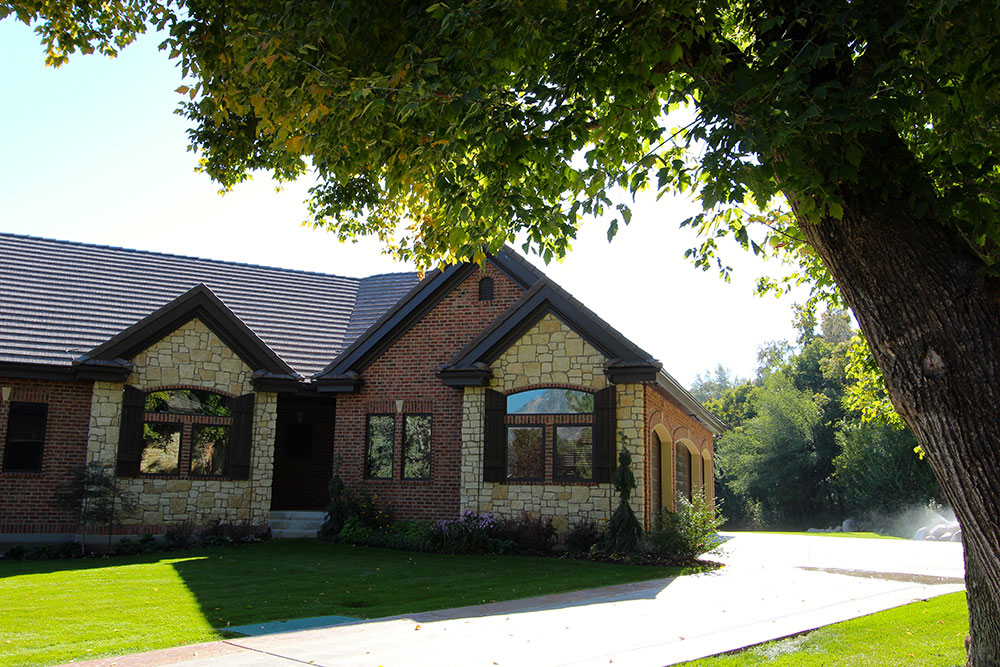 Stylish designs for aging in place
 Space
A key concern for older homeowners is maneuverability. Whether they're using a walker or a wheelchair, they need space to turn around and change directions. Fortunately, open and accessible floor plans are incredibly popular, providing easy passage from kitchen to dining room to great room, and eliminating doors and hallways in those areas.
In areas of the home where doors and hallways are necessary, making them wider than normal facilitates maneuverability without drawing attention to it. The extra width blends seamlessly into the overall open floor plan
Storage
 Accessibility
That, too, can be accomplished with elements that look like a natural part of the home's design:
-Bathroom sinks or vanities with plenty of knee clearance underneath
-Staggered kitchen islands so that work surfaces are accessible to people with differing needs
-Lights triggered by motion sensors or controlled by smart home devices
-A built-in seat in the shower
-Universal design principles like no-barrier, zero-step entryways and showers
-Electrical outlets that are 18 to 24 inches above the floor, reducing the need to bend down
Ease of maintenance
The need to do household chores shouldn't be the thing that forces retirees out of their homes. There are several design elements that can reduce the burden of maintenance.
Around the interior of the home, LED light fixtures can replace standard fixtures, because they require less frequent bulb changes. Quartz countertops are resistant to stains and scratches, are more durable, and require less cleaning and maintenance than granite.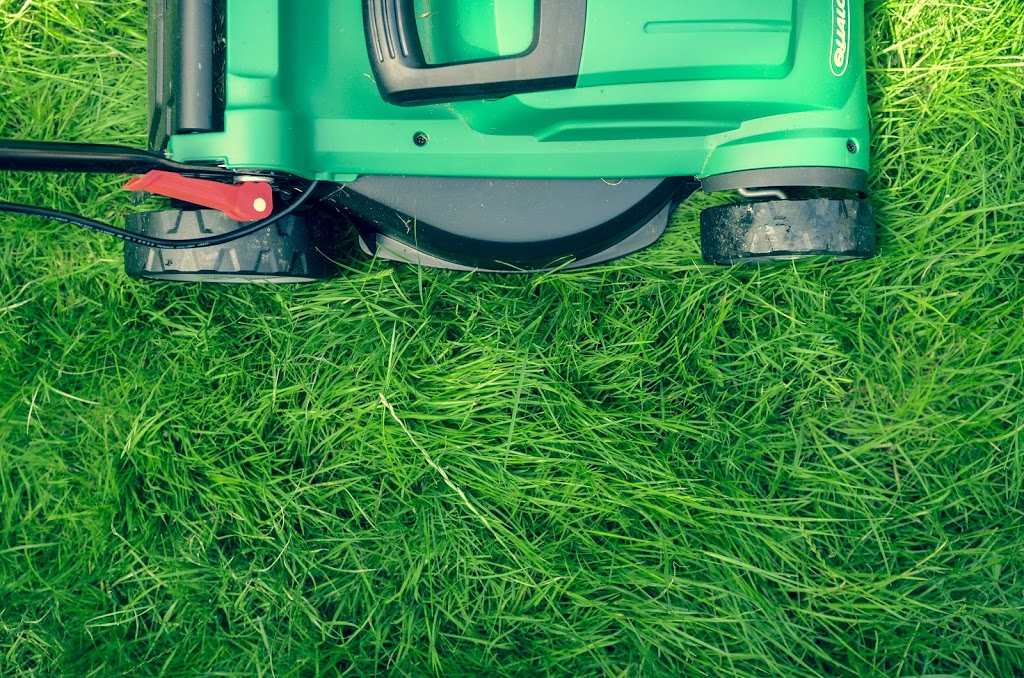 Safety
Safety features are also a concern for homeowners planning to age in place. There are a number of solutions that optimize safety and easy access for homeowners in a manner that aligns with their personal style.
Reduce trip hazards by eliminating level changes whenever possible. Where level changes are unavoidable, draw attention to the change in height with a visual signal like a change in color or pattern.
Avoid flooring materials that inhibit depth perception, like busy patterns or surfaces that are prone to glare. Choose flooring materials that minimize slips and falls and offer as soft a landing as possible. While carpeting is soft, for example, the thick pile can be a trip hazard for homeowners with mobility challenges. Good options include cork, rubber and linoleum.
Designers should anticipate that homeowners may slip and reach for something to break their fall. Add design elements like chair rails and shelving that can be used for support, and make sure they're capable of bearing the weight. To avoid kitchen injuries, cabinets shouldn't be installed over the cooktop.
Designers should also choose construction materials manufactured to withstand storms, fire or other disasters. Since aging homeowners may have a reduced ability to respond to an emergency, design the home itself to provide as much protection as possible.
Solutions for the Life of the Home
Designing for aging in place combines the best features of universal design, accessibility and flexible design to create a home that will provide shelter, comfort and pleasure for years to come.
With the vast majority of homeowners hoping to stay in their homes as they age, your goal is to design a home that meets your clients' interests now, while also accommodating needs that may pop up down the road.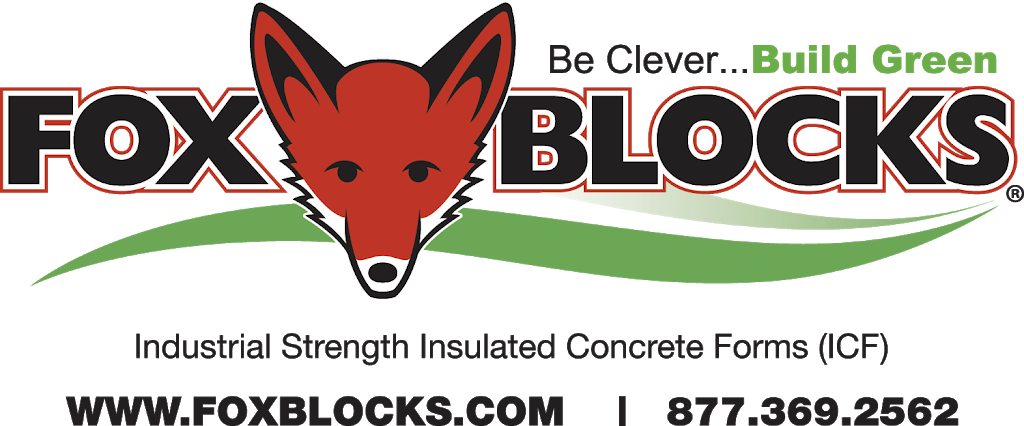 Some homeowners think about safety and security, seeking as much protection as possible from natural disasters and other unpredictable life events. Others may mention that they want to be able to stay in their homes as they age. Some might want to leave the home to future generations of family members, while others may have a passion for environmental sustainability.
Comments like that all point to the same thing: a client who wants a home designed with the future in mind. And, by keeping up with the latest developments in future-focused design, you can provide the solution.
What does it mean to design with the future in mind?
Future-focused design is based on the conviction that a house can be built to accommodate changes in factors like climate, building and energy codes, and owner preferences while minimizing its environmental impact and providing comfort. Examples include:
-Universal design
-Flexible use
-Sustainable design
-Resiliency in design
-Aging-in-place design
Universal design
Universal design (sometimes called "barrier-free design") is about inclusivity and recognizing that you can't always predict future needs. It focuses on creating a space that can be used by all potential occupants, regardless of their age or physical abilities. Key principles include:
Accessibility This principle focuses on making sure all areas of the building are accessible, appealing, safe and easy to use for everyone. One way to do that is by making sure there is adequate space for people using assistive devices to open and navigate their way through doors. Other examples include step-free entryways and cabinets and shelves that are at a height accessible to those in wheelchairs, people with limited reach, etc.
Simple and intuitive use This principle focuses on eliminating unnecessary complexity. Users shouldn't have to make an effort to figure out how to access particular areas of the home or how to use certain features.
Perceptible information This principle focuses on communicating necessary information in a variety of ways. In a commercial building, that might mean fire alarm systems that use both light and sound to guide people to escape routes. In a home, it could mean sticking to a simple design where essential areas like kitchens and bathrooms are directly accessible from a central gathering area (like the family room) instead of via a maze of hallways.
Tolerance for error This principle is based on the reality that all people make mistakes. Toddlers can stumble and fall, or elderly family members may accidentally leave appliances on or faucets running. In those cases, universal design could mean minimizing fall hazards or including automated safety features.
Low physical effort This means that people shouldn't have to exert themselves just to function in the home. Examples include specifying doors and windows that are easy to operate or drawers that extend to their full length.
Solutions for Universal Design
At its best, universal design enables inclusivity without making itself obvious. For example, when they're part of the overall design strategy, wide hallways and doors don't stand out as "accommodations." Instead, they contribute to an overall feeling of space and openness.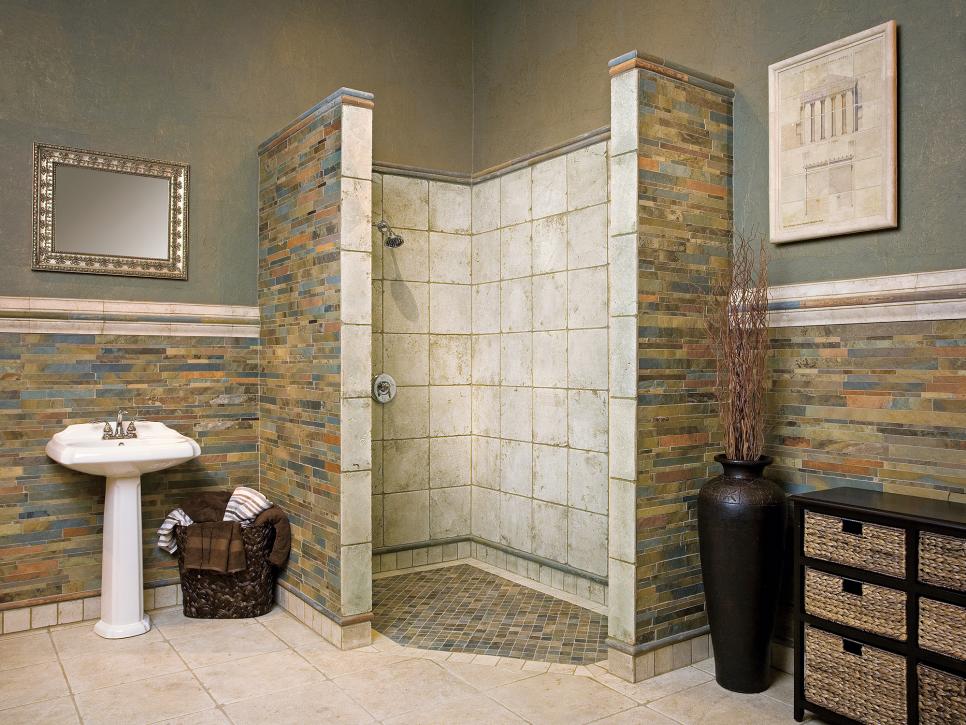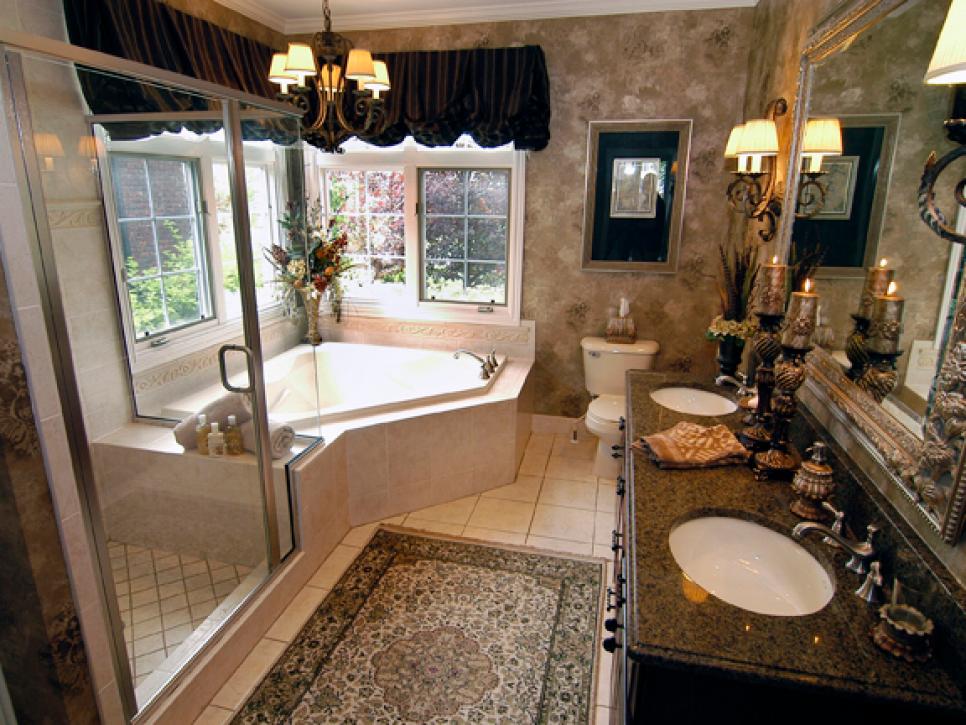 Something as simple as widening the space between tiles and using more grout can make a bathroom floor more slip-resistant.
Flexible use
Flexible use is based on two fundamental beliefs: First, one solution can serve multiple needs. Second, occupants should be able to easily change the way they use their home as their needs change.
Many homeowners have taken "flexible use" into their own hands, such as families with young children who use their dining room as a playroom. And many homeowners have converted their garages to additional living space.
Solutions for More Flexible Design
Today, architects are designing a variety of floor plans with that type of flexibility in mind, focusing on spaces that can be used for different purposes throughout various life stages: bedroom, office, playroom, etc.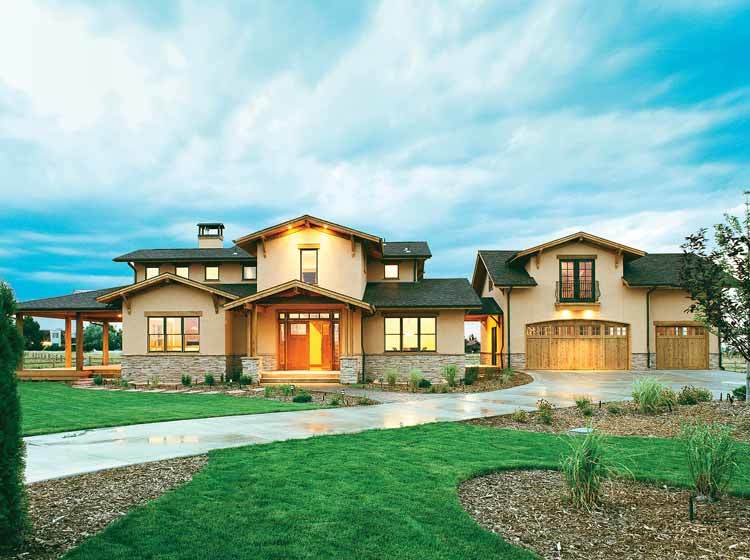 The loft over the garage in this luxury home can be used as an office, an entertainment room, or even an in-law suite.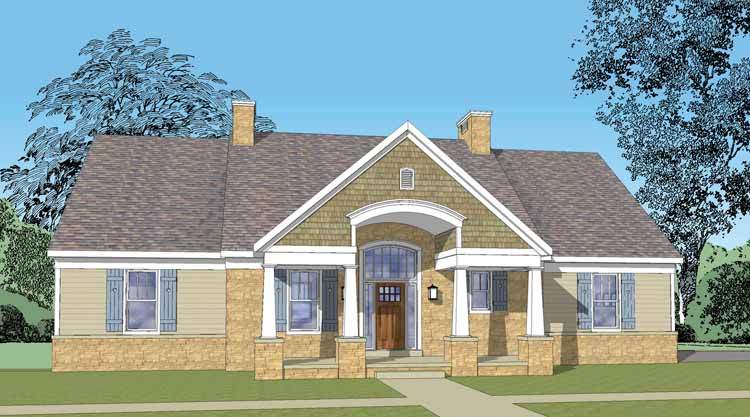 Sustainable design
Sustainable design is all about protecting both the environment and a home's occupants. It's built around several interrelated principles:
-Making the most of the site's potential
-Minimizing the consumption of non-renewable energy resources (both during construction and throughout the home's lifecycle)
-Choosing materials and products with a low environmental impact
-Conserving water and protecting nearby sources of water
-Achieving the optimum indoor environmental quality
-Ensuring ease of operation for a comfortably and health indoor environment
-Choosing materials and products that have long term resiliency and require low maintenance
Solutions for Sustainable Design
The fundamental concept of sustainable design is to incorporate these principles into every step of the design and construction process, so that the home is built from the ground up with sustainability in mind.
This custom home, with over 5,000 square feet of living space, incorporates energy-efficient ICF blocks with traditional wood framing. The resulting luxury home is healthy, air-tight, quiet, comfortable and sustainable.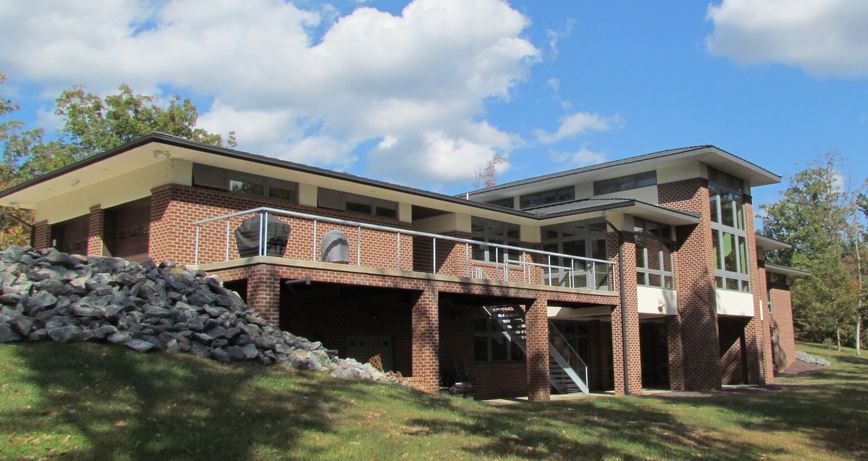 This 10,000-square-foot home is fully outfitted with sustainability features that include building envelope construction, two inches of foam insulation under the basement slab, a holistic HVAC system, passive solar heating, hydronic radiant floor heating and a rain harvesting system.
Resiliency in Design
Designing for the future must consider the ability of the home to withstand the changing environment. Depending on the location of the home, considerations should be made in the design process for the influences of hurricanes, tornados, fires, floods and other weather events.
Standard materials like ICFs, hurricane proof windows and hurricane roof attachments, plus FEMA-approved details and design techniques for building a resilient home, are readily available and have been used and tested for years.
Design to make a home resilient from the following:
-Flying debris from high winds that may penetrate walls
-Fire
-High wind events
-Seismic events
-Floods
-Mold and mildew
Building for the future by incorporating resiliency and energy-efficiency in the design process is being recognized by insurance agencies, appraisers, realtors and financial institutions. This provides not only security and comfort to the owner but on-going financial incentives for the life-cycle of the home.
Aging-in-place design
According to the AARP, older homeowners overwhelmingly prefer to stay in their own homes throughout the aging process. Some clients looking for an aging-in-place design may come to you asking about a remodel, while others will want to build a new home that will meet their needs now as well as throughout their retirement years. Features that make a home more livable for residents include:
-A low-maintenance exterior
-Low-landscape maintenance (think lawn, leaves, watering needs, etc.)
-At least one no-step entryway, ideally under cover
-Non-slip flooring, especially near exterior doorways where occupants may walk while wearing wet shoes
-Interior doorways operated by levers instead of doorknobs
-Ramps and handrails, if needed
-Faucets operated by levers or foot pedals instead of traditional fixtures
-Lower-than-average counters and cabinets
-Glass-fronted cabinet doors to make it easier for the owners to find what they need
-Open shelving
Solutions for Aging-in-Place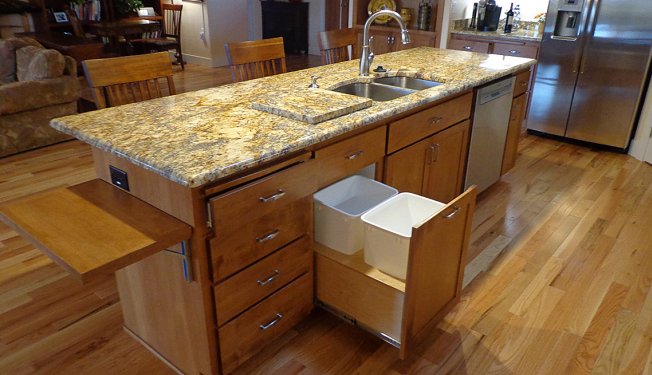 The fold-down shelf at the end of this island can serve as a prep area for a homeowner in a wheelchair or who simply who prefers to sit. (It would also make an excellent coloring nook for small children.)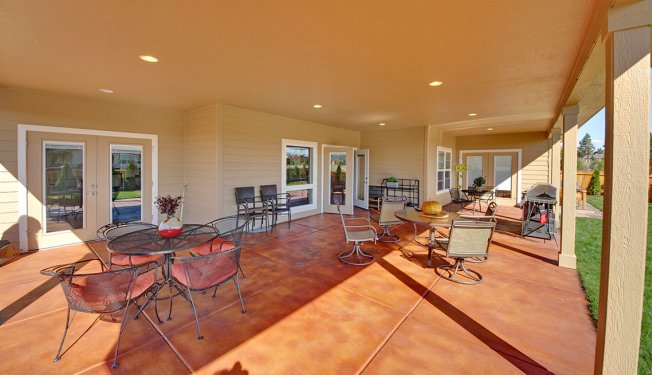 The no-step patio entrances in this home guarantee patio access to older homeowners using walkers or wheelchairs. But they also make the patio easier to use for people at other life stages: No-step doorways remove trip hazards for toddlers as well as for adults carrying platters of food to the patio.
Designing for Future Success
Designing for the future means designing for lifelong residential comfort. It means providing clients with a home that will accommodate their family through the generations, rather than a house where the owners live for one phase of their lives. Designing with the future in mind comes down to creating a home where your clients feel secure and comfortable, whatever the future may have in store.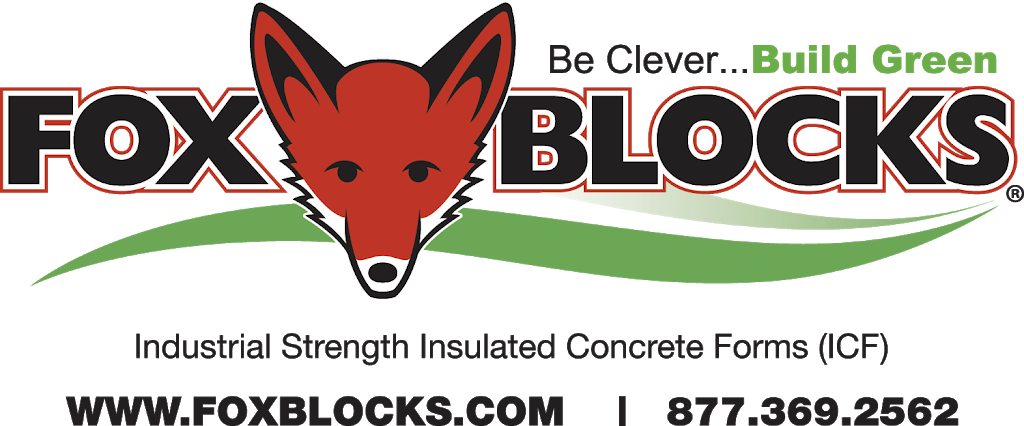 The owner of this 6,000 square foot home was attracted to Fox Blocks because of its energy efficiency but was also happy with the ease of construction that save time and money.